SCELG at Arctic Circle Assembly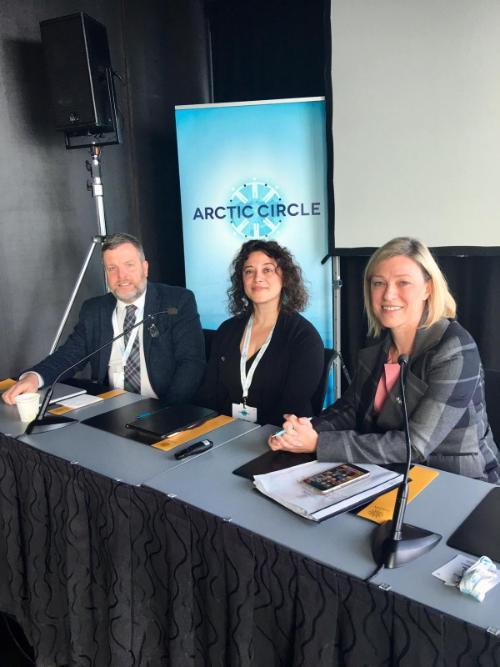 On 11-12 October 2019, the Strathclyde Centre for Environmental Law and Governance (SCELG) contributed to two breakout sessions at the Arctic Circle Assembly in Reykjavik, Iceland. The Assembly is the largest annual gathering on the Artic and is attended by heads of state and government, ministers, and members of parliament, as well as representatives of civil society and indigenous peoples.
Nicola Crook, SCELG PhD researcher, presented the work that SCELG has undertaken with the Scottish Government Islands Team. Nicola contributed to a panel chaired by Mr Wheelhouse, Scottish Minister of Energy, Connectivity and Islands, and focused on the methodology undertaken during the National Islands Plan consultation process, with a view to sharing good practices with other countries.
Prof Elisa Morgera contributed to an event organized by the Scottish Parliament titled 'Climate Change, Climate Justice & Human Rights: A Scottish Perspective', where members of the Members of the Scottish Parliament's Environment, Climate Change and Land Reform Committee commented on the passage of Scotland's recent Climate Change (Emissions Reduction Targets) (Scotland) Bill and the creation of the United Kingdom's first Just Transition Commission. Prof Morgera illustrated the relevance for climate justice of the 2018 recommendations from the First Minister's Advisory Group on Human Rights Leadership and the opportunities for transformational change across all sectors towards a low-carbon, inclusive economy that promotes and safeguards citizens' environmental human rights under the new national task force for the development of a legal framework on human rights for Scotland.
SCELG collaborates closely with the Strathclyde Centre for the Study of Human Rights Law. It works extensively on topics on the crossection of human rights and environmental law, notably in the context of Brexit, the EILEAN lab, the BeneLex Project and the One Ocean Hub.