Postgraduate taught

Engineering events
Welcome to the Faculty of Engineering
We provide high-quality advanced training, with an unrivalled portfolio of almost 70 innovative, industrially focused postgraduate taught courses, and leading research programmes. We are one of the largest, best equipped engineering faculties in the UK and the largest in Scotland. Multimillion-pound investment in our facilities gives students access to state-of-the-art equipment and workspace in which to study.
Our close connections with industry ensure that our degrees remain relevant to the needs of employers and provide students with opportunities to work in cross-disciplinary teams, solving real engineering problems. Through our collaborative links with overseas partners, we have a growing international community of students, researchers and staff from around 100 countries.
Strathclyde has many links with industry, so there are lots of opportunities for placements and experiencing engineering in a real-life context.
Our campus
Here at Strathclyde, we want you to feel right at home. There's more or less everything you need on campus and for anything else, you have an entire city to choose from. Find out more about our city-centre campus, or take our virtual campus tour.
Our campus
Our students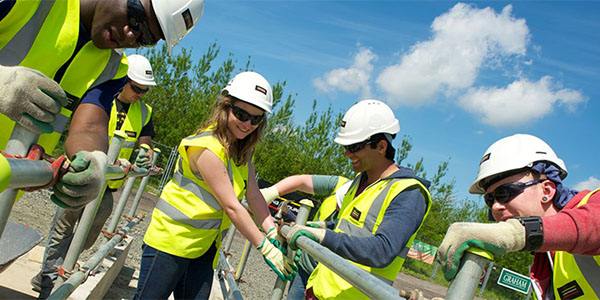 Meet our student community
Our Faculty of Engineering is home to over 6,000 students from almost 100 countries, studying across 8 departments at undergraduate and postgraduate level. Find out more about the lives of our students, and what they enjoy about studying at Strathclyde.
Meet our student community
Chat to a student ambassador
Want to know more about what it's like to be a student at the University of Strathclyde? A selection of our current students are here to help!
Our Unibuddy ambassadors can answer all the questions you might have about courses and studying at Strathclyde, along with offering insight into their experiences of life in Glasgow and Scotland.
Chat now!
Student support
Where to get advice and support
We're here to support and help you throughout your time at Strathclyde. All of our services are available to all students.
Disability & wellbeing
Our Disability & Wellbeing Service helps students with mental health and wellbeing support, disability and general health support. We also have a number of classes and groups that you can take part in.
If you're absent from classes due to illness, please refer to the Personal Circumstances Procedure to ensure your absence is recorded.
Contact us
For any questions about studying at the Faculty of Engineering please email