Distinctive Strathclyde
A diverse and vibrant student population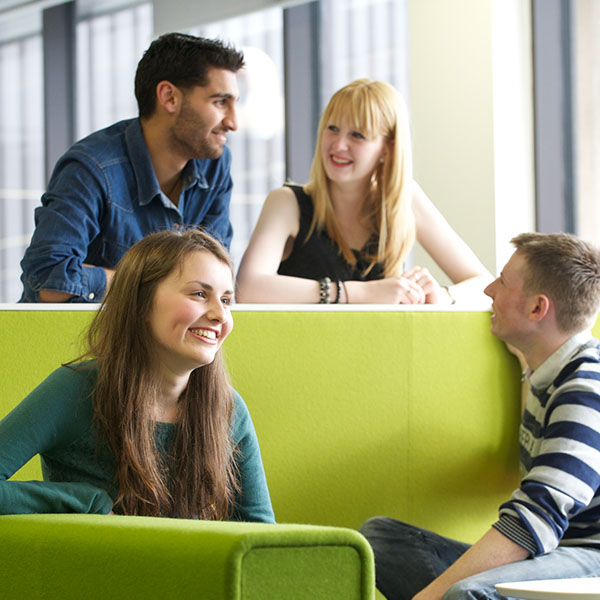 Strathclyde welcomes anyone with the willingness and ability to benefit from a university education. Through Glasgow's Children's University we nurture a love of learning from an early age (more than 800 children since 2013), and we engage with, inspire and support school pupils through a variety of initiatives such as Scottish Space School, Science Scouts and Accelerate. We endeavour to sustain this love and appreciation of learning into later life through our Centre for Lifelong Learning and Age Friendly Academy.
We are committed to widening access to university, and proud to have achieved our 2020 target of recruiting 1,000 students from the 40% most-deprived postcodes three years early – this Plan sets out our ambitions as we strive to ensure our population is representative of society and that we address under-representation in all parts of our University. We encourage care-experienced students to join us, supporting them with their applications, providing scholarships and mentors, and helping with accommodation and graduation costs – and we have exemplary status from the Buttle UK Quality Mark. We are proud of our diverse international student body, drawn from more than 100 nations, and the sector-leading scholarship support we provide to asylum seekers in partnership with the Carnegie Trust.
We are driving increased engagement of our entire community and this includes pioneering science outreach events designed for pupils with Additional Support Needs and working with partners such as ENABLE Scotland on our award-winning Breaking Barriers initiative. This programme is helping young people with learning disabilities gain a university qualification and valuable work experience with industry partners including ScottishPower and Marriott Hotel, Glasgow. The University is leading the sector through the development of Equally Safe in Higher Education in prevention of gender-based violence, and through research and support for transgender students and staff. We will build on these ground-breaking initiatives.
As part of this Plan we will work to ensure we take into account the potential equality impacts of all of our policies and practices and to deliver on our commitment to ensure our campus is a safe space for all. We seek to include and support all who are identified as being 'at risk' of not being able to access, participate or remain in higher education – this includes vulnerable groups and individuals with under-represented protected characteristics or backgrounds. Over the period to 2025 we will build on our strong and effective outreach and engagement work. Our strategic ambitions focus on growing our postgraduate cohorts, further diversifying our student population and creating flexible on and off campus pathways, so that individuals from a wide variety of backgrounds can benefit from the distinctive student experience at Strathclyde.
An outstanding and distinctive student experience
As a leading international technological university, we aim to ensure our students benefit from our unrivalled partnerships. A key feature of the Strathclyde student experience is the breadth of opportunities to undertake work placements, internships and work-based projects with business, industry, government and academia. These defining experiences, many of which are international, make our graduates distinctive and highly sought after - in the jobs market and in terms of their contribution to society.
By placing Education for Sustainable Development (ESD), aligned with the United Nations Sustainable Development Goals (SDGs), at the heart of our curricula we will embrace change in teaching and learning processes, bringing in new approaches that stimulate our students to ask questions, empathise, analyse, and think critically about the world around them and the positive impact they can have on it. Knowledge and understanding of sustainable development is vital for the type of global citizen Strathclyde is committed to nurturing and producing. Strathclyde's programme, represents an internationally acclaimed exemplar of embedding research-based ESD in undergraduate curricula. It aims to develop key sustainability competences in students within the context of their core discipline; and to inspire, educate and equip our students to work collaboratively, across disciplines, now and in the future, in the pursuit of the global goals.
As part of this Plan we will significantly expand our flexible study options, most notably through which incorporates a rapidly expanding range of undergraduate and postgraduate courses as well as free . And we are working closely with professional bodies and employers to provide a breadth of , and upskilling opportunities, which offer employees an ideal opportunity to gain a qualification and essential skills to advance their career while continuing to work.
We strive to provide our students with a strong foundation in entrepreneurial skills which are embedded across all of our programmes, with our influential providing support to develop, enhance and test the transferable skills that give students a head start in the graduate jobs market. An emphasis on development of entrepreneurial mindsets is a key feature of our plans towards 2025 – we will build on our strong socially progressive ethos to support the next generation of entrepreneurs, whatever their background, sector or ambition. Entrepreneurial learning will complement Strathclyde's leading role in research and engagement promoting fair work and inclusive growth.
Our extensive , services are enabling current and future students to enhance their health and wellbeing, recognising the strong connection between physical activity and positive mental health and wellbeing, while our location at the heart of , regularly voted as one of the world's top, most-friendly cities, means our students can readily experience the rich cultural heritage of the city.
Through this Plan we will expand our opportunities for students to with partner universities and to undertake international work placements; and we will continue to welcome students from overseas on similar exchanges and summer schools enriching the on-campus experience for all our staff and students.
Our continuing, with investment set to exceed £1 billion by 2025, will ensure our facilities are both fit for the 21st century, and environmentally-sustainable, creating a first-class learning environment for our students and supporting inclusive growth in Glasgow and beyond.