Continuous Improvement blog

Workplace Organisation - Set in Order if You Are a Hoarder
In my last blog post in the series, we had sorted out the things we needed and wanted to keep, from things that were no longer required or were in the wrong location. Our team were now ready and willing to apply the second S, Set in Order. This is where things start to get exciting because you are getting your first glimpse of how things can be. It is the future.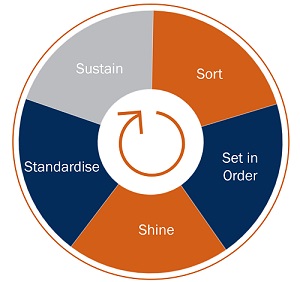 Set in order means arranging items in a manner that promotes smooth workflow. You want to make things as intuitive as possible. The trick we found was to make things in the office as visual as possible. It involves making things easy to get to, with the things you use most frequently within easy access. We also found that items that we use together should be stored together in the order of the sequence used. For instance, we frequently deliver our ILM endorsed 'Lean for Leaders' training programme both internally and to external clients. Many exercises in the training require support materials. Prior to setting things in order, it was time consuming to gather things together for the training course, especially if you have to travel. As part of the set in order activities, we arranged the material in such a way that it is in the order that you use it and is organised as a kit of parts that is easy to gather and then put back when you are finished with it. It has saved us hours of searching time and has reduced the stress of preparing for a course because we now know that everything is race ready and it just a question of picking it up.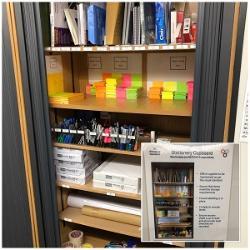 We also endeavoured to make things understandable at a glance using visual controls. We wanted to make how the office works easy to follow and understand, without having to physically explain it to visitors. The phrase 'a picture is worth a thousand words' comes to mind. Set in Order is meaningless unless everyone knows where things are kept and how to find them.
We created a route through the office that showcases our work in a logical sequence that makes it easier for visitors to understand. Some of the improvements we made included:
Posters in the stairwell leading into the office to promote Lean Awareness.
We created a poster to visualise the services that we offer.
We developed a rolling video display highlighting some of the key activities of the team.
We formed an area on the visitor journey to display case studies and we put up an example of how we typically run a project, to give visitors a good overview of the types of activities this entails.
We also created an area to highlight our daily communication and project management activities. Having applied the set in order stage as a team, I think it is fair to say that the office now flows a lot better for everyone and the unsolicited feedback that we have received from visitors demonstrates that our efforts are starting to pay off. It really has given everyone a lift. What do you think would happen if you tried this in your own workspace?
In the next post in this series, I will cover the third S, which is Shine. If you read it you'll feel fine, well most of the time. That doesn't even rhyme.