Key facts
UCAS Code: G400

Accreditation: Accredited by the British Computer Society (reaccreditation visit taking place November 2023)
Study with us
Studying a BSc Honours degree in Computer Science at the University of Strathclyde, you'll be learning at an award-winning academic institution - the only University to have won the Times Higher Education University of the Year award twice (2012/2019).
All our computer science degrees are designed to equip you with the knowledge and skills that are in high demand by industry and the public sector.
develop an in-depth understanding of computer science required to develop sophisticated computing systems
acquire excellent practical skills alongside theoretical understanding
benefit from undertaking industry-linked projects
gain analytical, design and communication skills and the ability to work as part of a team
Back to course
Why this course?
Computer science demands and develops a challenging mix of skills and abilities. These include a deep understanding of the technology, creativity and imagination, logic and attention to detail, strong analytic and design skills combined with excellent communication skills and the ability to work as part of a team.
Our graduates not only understand new technologies but are able to influence their development.
All our computer science degrees have strong practical and theoretical foundations. They have a similar foundation in the beginning, making it possible to transfer between courses.
Transfer to MEng Computer Science course is possible for students who perform well in Years 1, 2 & 3.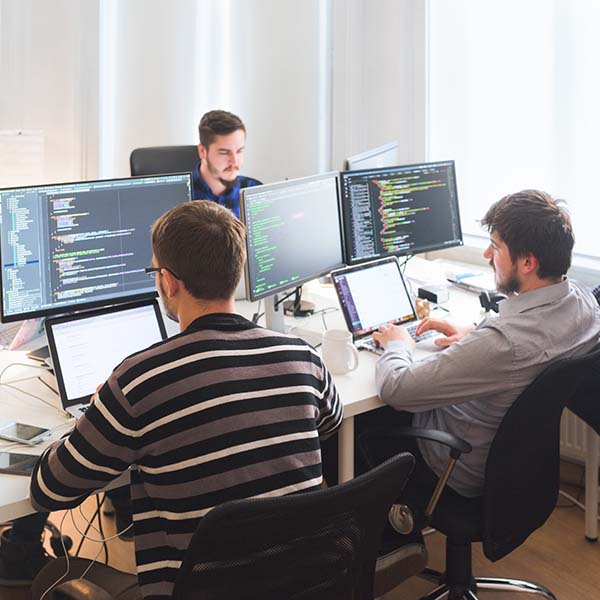 What you'll study
On our BSc Hons Computer Science degree you'll learn foundation skills such as programming and in later years, subjects will include algorithms, databases and logic.
In Year 3, you'll study more specialised areas such as new programming languages and in your final year, you'll undertake a practical computing project.
Work placement
Employers have taken on students looking for summer placements from the end of Year 2 onwards. Such placements are not assessed and there's more flexibility regarding duration and the nature of the work.
Postgraduate study
This undergraduate degree can lead to further study in postgraduate degrees such as:
Major projects
Several companies work with us to develop student projects, either individual or group final-year projects that are suitable for both parties.
Projects are supervised by members of academic staff with individuals from the sponsoring organisation providing occasional advice and feedback.
Facilities
We have three large undergraduate teaching laboratories, plus a restricted-access laboratory (primarily for fourth and fifth-year students). There are printers in each main lab. All departmental machines are linked by a high-speed local area network and operate under a single network file system so you can access your files from any of our machines.
Student competitions
Charles Babbage Prize – Best Computer Science Project
The prize is awarded annually to the undergraduate student who completes the best project in computer science in that academic year.
The project must include practical computing and the assessors will take into account the originality and potential applications of the work.
Andrew McGettrick Prizes
Two prizes are awarded annually – one to a graduating Honours student and one to a graduating Integrated Masters student, for outstanding performance in his or her studies.
Compulsory Modules
Modules cover foundation skills, such as programming and computer systems organisation and look at the concepts of computation and information. In addition, you'll take a business technology class.
Semester 1 & 2
Machines, Languages & Computation (20 credits)
This module will help you achieve a broad knowledge of the essence of computation and computational systems, as embodied by the notions of computable functions, formal languages and recursion, logic and computability and abstract machines.
Information & Information Systems (20 credits)
This module will help you understand a broad knowledge of information systems and how information is created, used and disseminated within an information society.
Programming Foundations (20 credits)
This module will provide you with a solid foundation in the principles of computer programming. On completing this module you should have the necessary skills to be able to design, build and test a small system in a high-level language (Java in the current incarnation of the module).
Computer Systems & Organisation (20 credits)
Semester 1: you'll develop an understanding and appreciation of a computer system's functional components – both hardware and software, their characteristics, their interactions, and their fundamental role in the manipulation of data.
Semester 2: you'll further your knowledge of the design parameters of a typical computer system and the impact these have on the functionality, and implementation, of the hardware and software components.
Topics in Computing 1 (20 credits)
This module will help you to develop a broader perspective of computer science and to develop problem solving, team working, presentational skills, as well as personal and professional development skills.
Semester 1
Introduction to Business Analysis & Technology (10 credits)
This module will help raise awareness of the real-world problems encountered by industry that can be solved through Management Science methodology. You'll:
develop an understanding of the tools and techniques used by business analysts
highlight the integrative role of technology within organisations
demonstrate the dynamic nature of technology
Elective Module (10 credits)
In first year most students take an elective module, from a range of topics are offered, normally by other departments, to give a taste of other subjects and broaden your curriculum.
Compulsory Modules
Subjects covered include algorithms, databases, logic, the analysis and design of large systems, and how to ensure that the systems are usable. You'll also undertake an individual programming project and further programming skills.
Semester 1 & 2
Advanced Programming (20 credits)
This module will further your skills in object-oriented programming, provide knowledge of key abstract data types along with their implementation and usage, and provide experience in the development of larger scale software and an introduction to design.
Your main goal is to be able to develop larger programs with specialised data structures and utilising APIs from a specification, and be able to ensure and show how the system they developed matches the specification.
Logic & Algorithms (20 credits)
This module will equip you with the tools to model and measure computation. To build on the module Machines, Languages and Computation, and develop further understanding of the mathematical foundations of computation. To foster an analytical and empirical appreciation of the behaviour of algorithms and the use of abstract data types.
User & Data Modelling (20 credits)
This module will provide you with a critical appreciation and understanding of how to model user activities and the data to support them, together with how to implement systems and databases to support user activities.
Computer Systems & Architecture (20 credits)
This module will allow you to develop a deeper understanding of typical computer architectures and their instruction sets and the complex tradeoffs between CPU clock speed, cache size, bus organisation, number of core processors, etc, that influence their design and have a fundamental impact on their performance.
Semester 1
Professional Issues in Computing (10 credits)
This module will ensure you're aware of the legal, social, ethical and professional issues commensurate with the practice of Information Systems Engineering.
Quantitative Methods in Computer Science (10 credits)
This module will teach the quantitative and numerical methods that underpin modern Computer Science, such as (but not restricted to) Artificial Intelligence and Data Analytics. The module will also provide students with the numerical methods needed to perform quantitative evaluations of algorithms and software.
Semester 2
Functional Thinking (10 credits)
This module will introduce the core concepts and methods of modern functional programming.
Elective Module (10 credits)
In second year most students take an optional module, from a range of topics are offered, normally by other departments to give a taste of other subjects and broaden your curriculum.
Compulsory Modules
You'll study more specialised areas such as communications, how new programming languages can be designed, the variety of internal machine architectures, artificial intelligence, graphics, and the technologies behind web-based applications. You'll also take part in a large group-based software development project.
Semester 1
Building Software Systems (20 credits)
This module will extend and deepen your understanding of the analysis, design and implementation of software systems; to provide further experience in the activity of designing and implementing non-trivial systems; and to enable you to demonstrate practical competence in a group environment.
Your goal is the development in a group setting of significant systems from scratch aiming not just at any solution but a good solution, and to be introduced to more general Software Engineering topics.
Functional Programming (20 credits)
The module aims to provide you with skills in basic functional programming and experience in integrated deployment of those skills.
Web Applications Development (20 credits)
This module will give you an understanding of the technologies used in the development of N-tier Internet-based applications.
Semester 2
Computer Systems & Concurrency (20 credits)
This module will allow you to develop a deeper understanding of highly concurrent hardware and software systems. The module will also further your knowledge of the need for, and the design and implementation of, those other vital hardware and software components of a concurrent system, namely multiprocessors and their interconnections, operating systems and networks.
The interactions between many of these components will be investigated by means of significant practical work that consolidates the lecture content in the context of: (i) multiprocessor architectures, (ii) concurrency, (iii) protection and security and (iv) networked and concurrent applications. Software developed in appropriate programming languages will form the basis of much of the practical work thus enabling the student to enhance their software design and implementation skills in this domain.
Mobile App Development (20 credits)
The module will provide you with a good understanding of the issues in developing for mobile environments, approaches to handling these issues and skills in developing for a widespread mobile platform.
Foundations of Artificial Intelligence (20 credits)
This module will help to give you a broad appreciation of the scale and nature of the problems within Artificial Intelligence and to a detailed understanding of some of the fundamental techniques used to address those problems.
Compulsory Modules
Semester 1 & 2
Individual Project (40 credits)
This module will allow you to demonstrate practical and documentary competence. You'll also be expected to give a demonstration of your work.
Semester 1
Computer Security (20 credits)
The aim of this module is to provide you with the opportunity to develop a security mind-set by introducing you to core material in the area of computer security. This should enable you to identify potential threats and vulnerabilities for a range of situations, and propose appropriate actions to mitigate these issues.
Optional Modules
In fourth year, in addition to the compulsory modules, you will take four modules chosen from the options below.
Semester 1
Project Management (20 credits)
This module will familiarise you with the basic concepts associated with project management. It is designed around seven main areas:
Project Management Basics
Setting Objectives and Defining Project Deliverables
Work Breakdown, Structures and Milestones
Project Planning
Project Finance
Risk Management
Project Strategies
These areas will provide you with a general understanding of project management that will complement your studies in other areas of the course, such as management finance and strategy, where the execution of company strategy may require the use of project management techniques.
Software Architecture & Design (20 credits)
This module aims to:
enable you to understand the challenges of advanced software design and the issues associated with large-scale software architectures, frameworks, patterns and components
develop your understanding of the tools and techniques that may be used for the automatic analysis and evaluation of software
Semester 2
Advanced Functional Programming (20 credits)
This module will provide you with further skills in functional programming and an appreciation of the mathematical structures which underpin powerful general programming concepts and techniques.
Theory of Computation (20 credits)
Building on the previous material in software development, you'll extend and formalise your abilities in the area of computational complexity.
Information Access & Mining (20 credits)
This module will allow you to understand the fundamentals of information access and information mining. The module will cover a range of techniques for extracting information from textual and non-textual resources, modelling the information content of resources, detecting patterns within information resources and making use of these patterns.
Human Centred Security (20 credits)
This module will focus on making you more aware of human-centred security design.
Glasgow is Scotland's biggest & most cosmopolitan city
Our campus is based right in the very heart of Glasgow. We're in the city centre, next to the Merchant City, both of which are great locations for sightseeing, shopping and socialising alongside your studies.
Life in Glasgow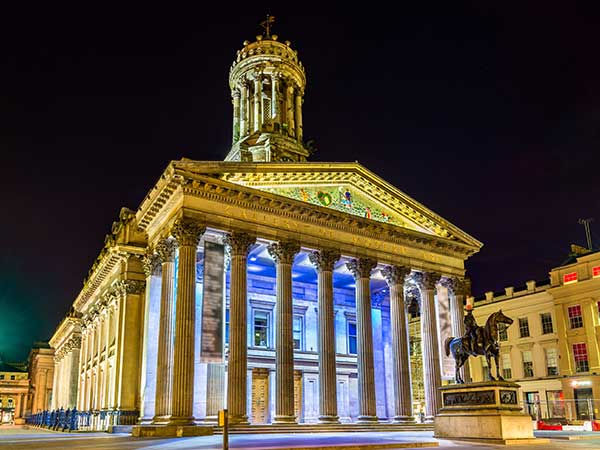 Learning & teaching
Learning and teaching methods aim to help you gain knowledge and understanding as well as the development of intellectual skills (problem-solving and critical evaluation skills), practical skills (designing and implementing a software system, team-working skills) and transferable skills (investigative skills, presentation skills, report-writing skills, time management skills, independent learning skills).
Knowledge and understanding are gained through lectures and supported in tutorials or laboratories, and individual and group project work. You'll be encouraged to read and research independently to help broaden your understanding of the subject.
You'll develop intellectual skills through weekly laboratory or tutorial exercises. You'll be set challenging problems while further coursework and group and individual projects will help you enhance your skills.
You'll learn practical skills through lectures, tutorials, laboratory, coursework and project work.
Assessment
Your knowledge and understanding, intellectual, practical and transferable skills are tested through unseen written exams, laboratory submissions, coursework and project reports and presentations.
Back to course
Fees & funding
All fees quoted are for full-time courses and per academic year unless stated otherwise.
Fees may be subject to updates to maintain accuracy. Tuition fees will be notified in your offer letter.
All fees are in £ sterling, unless otherwise stated, and may be subject to revision.
Annual revision of fees
Students on programmes of study of more than one year should be aware that tuition fees are revised annually and may increase in subsequent years of study. Annual increases will generally reflect UK inflation rates and increases to programme delivery costs.
Go back
Scotland

2024/25: TBC
2023/24: £1,820

Fees for students who meet the relevant residence requirements in Scotland are subject to confirmation by the Scottish Funding Council. Scottish undergraduate students undertaking an exchange for a semester/year will continue to pay their normal tuition fees at Strathclyde and will not be charged fees by the overseas institution.

England, Wales & Northern Ireland

£9,250

Assuming no change in fees policy over the period, the total amount payable by undergraduate students will be capped. For students commencing study in 2024/25, this is capped at £27,750 (with the exception of the MPharm and integrated Masters programmes), MPharm students pay £9,250 for each of the four years. Students studying on integrated Masters degree programmes pay an additional £9,250 for the Masters year with the exception of those undertaking a full-year industrial placement where a separate placement fee will apply.

International

£24,650

University preparation programme fees

International students can find out more about the costs and payments of studying a university preparation programme at the University of Strathclyde International Study Centre.

Available scholarships

Take a look at our scholarships search for funding opportunities.

Additional costs

There is no charge for lecture notes or equipment. Students are supplied with 500 free print units - but must purchase any additional units. However, most coursework is submitted electronically.

Books are recommended, but not a compulsory purchase. The department ensures that the University library is stocked with copies of textbooks.

International students

International students may have associated visa and immigration costs. Please see student visa guidance for more information.
How can I fund my studies?
Go back
International Students
We have a number of scholarships available to international students. Take a look at our scholarship search to find out more.
Back to course
Careers
Demand for our computer science graduates is high and employment opportunities are varied, with good earning potential. You can choose from a career in software development, consultancy and business analysis.
Career opportunities are not limited to technology. The problem solving, creative and personal skills, you'll develop are of benefit in their own right and much sought after by employers in other industries.
Chris' graduate story
In the video below, Computer Science graduate Chris Lawlor explains how a final-year project helped him start his own business:
How much will I earn?
According to figures from the DLHE survey, the average UK salary across the regions for computer science and IT subjects the range was £16,880 to £29,690. The upper range exceeds that for all full-time first degree graduates, which was £18,615 to £22,785.
With experience, web developers can earn up to £38,500, software engineers up to £49,000, while project managers can earn up to £75,000.*
*Information is intended only as a guide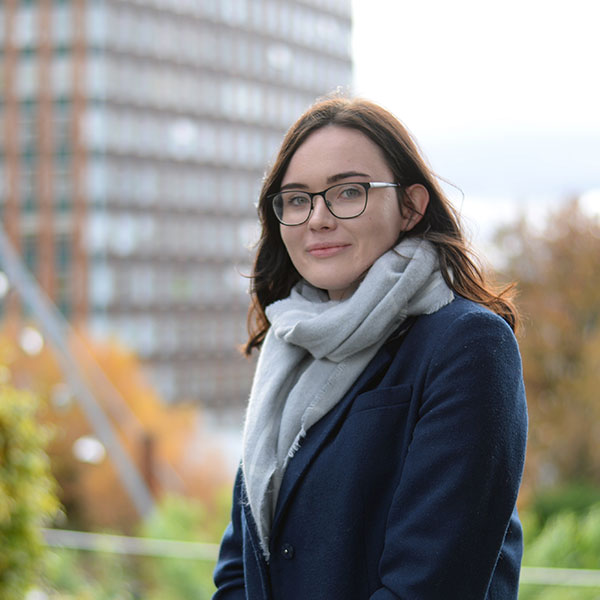 The people I've met have been fantastic! From my fellow students to lecturers, the people have made my time here at Strathclyde. The lecturers are friendly and approachable, always on-hand to help! I've enjoyed the diverse range of classes from learning Java and C to developing mobile apps and complex algorithms.
Emma Pearson
Back to course
Apply
Computer Science (
1

year entry)
Computer Science (
1

year entry)
Computer Science (
2

year entry)
Computer Science (
2

year entry)
Have you considered?
We've a range of courses similar to this one which may also be of interest.