Key facts
UCAS Code: NR19

Accreditation: triple-accredited Business School - AACSB, EQUIS, AMBA

Study abroad: exchange links with universities worldwide

Applicant visit days: these take place in March each year
Study with us
gain the skills to succeed in a complex and ever-changing global business environment
study abroad at one of our partner institutions in Europe, South East Asia, Australasia or North America
boost your career prospects, with an understanding of international business from another country's perspective
develop skills which are highly valued by graduate recruiters through our innovative Management Development Programme
Back to course
Why this course?
International Business with a Modern Language will give you great exposure to the international business environment along with study of a language.
It's a five-year Masters-level degree for students who want to gain a firm business foundation while developing the ability to do business in a foreign language.
It will develop your knowledge and understanding of international business while preparing you for a business career with management potential.
A year abroad means you'll become fluent in the language and give you the confidence to do business overseas in other cultures.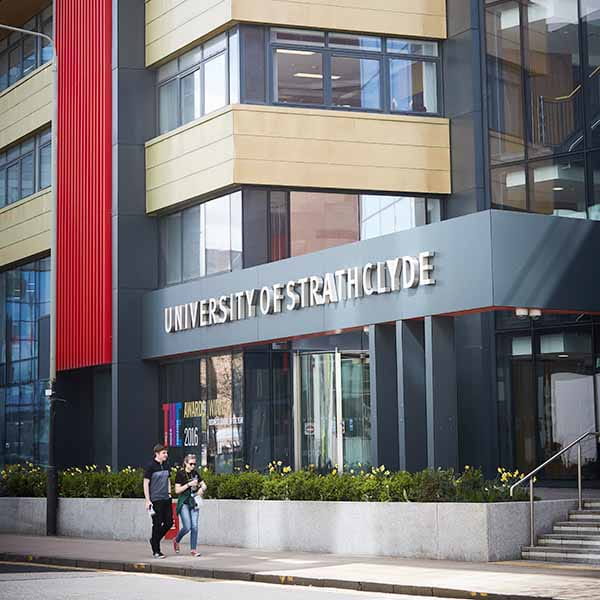 What you'll study
Years 1, 2 & 3
These years focus around core classes in International Business and the Management Development Programme. You'll also choose a language to study.
Year 4
You'll spend this year in a business school in the country of your chosen language. All classes are taken in the foreign language.
Year 5
You'll take the core business class Contemporary Issues and Trends in International Business, your business specialism and your language. There's also an in-depth research project.
Languages
You can choose one from French or Spanish.
Specialising
You can choose to specialise in the following business subjects:
Business Analysis & Technology
Business Enterprise
Economics
Finance
Hospitality & Tourism Management
Human Resource Management
Marketing
Study abroad
You'll spend year 4 either studying or working in the country of the language you choose.
Postgraduate study
This course runs for five years and is now an Integrated Masters degree. All classes will be assessed at postgraduate level.
Guest lectures
During your final year of study, you'll attend the Contemporary Issues and Trends in International Business class where you'll have the opportunity to attend a series of guest lectures delivered by high calibre practitioners from both national and international organisations.
Go back
Course content
You'll take modules in International Business and your chosen business specialism, alongside a modern language. In year 1 you can take two modules, covering four business school subjects. At the end of Year 1, you'll choose which subject to take forward as your specialism.
The Management Development Programme is also a core element of the undergraduate programme in the Strathclyde Business School. The programme runs for the first three years of the BA degree and is driven by real business problems. The approach to learning is active problem-based, with students working in project teams.
The Management Development Programme provides an opportunity to integrate the knowledge and experience gained from your business subjects. Each year of the Management Development Programme focuses on different aspects of business and the content is constantly evolving, and being updated and enhanced.
In addition to these modules, you'll also study two foundation business modules and two modules in your chosen modern language.
Introduction to International Business
This module introduces learners to the field and practice of international business and management.
Drawing on classical and recent debates in theory and practice including, but not limited to commercial concerns, learners will be equipped with an understanding of the foundational principles and developments of the subject.
In the module, we consider how international business and management is researched, and facilitate a critical understanding based on real-life case studies in international contexts.
This module gives learners the capacity to look at the past, present and future in organisations and provides the foundations for intellectual progression in the subject, and broadly, for Year 2 and beyond.
Management Development Programme 1
The ICE Pathway - "Innovation, Commercialisation & Entrepreneurship", where you'll learn about the Foundations of 'What is Business'. Alongside:
Personal & Professional Development: Who am I? How Do I learn? How do I lead & work in a team?
Knowledge & Practice: What is a business/organisation? Why does this matter? How does this affect society?
Experiential Learning: Real-world cases & clients; team-based and student-centered Learning approaches
This class aims to support you in developing key skills that are important to both your academic and future career. These include skills associated with:
research
data analysis
critical writing
team working
communication
In addition to this class, you'll also study one class from your principal subject area and two language classes.
International Business Analysis
This class furthers the foundation learning covered in the first year. It gives you a grounding in the historical context of international business, global institutions, theories underpinning international trade and investment, and the main decision criteria, considerations and options facing the firm or organization that is, or is wishing to, operate internationally.
Management Development Programme 2
Topics
Semester 1 topics include:
Working in Business Organisations
Working Business Research & Consultancy
Working Internationally
Working in the Third Sector
Rhetorics & Oratory
Semester 2 is about developing the proposal of MDP3; with a presentation and a final report.
Class description
The second year concentrates on developing understanding through industry-specific contextualisation. Sessions are weekly and three hours in length.
The sessions are thematically linked to the pathways for individualised experience in third year whilst also drawing on the theoretical knowledge developed in MDP 1. In order to develop understanding, organisations will deliver a half-day session. This consists of a one hour plenary introduction where the company and case study are introduced. This is followed by the group sessions where you undertake activities in relation to the case study set by the company.
You'll also study one class from your principal subject area and two language classes in addition to this class.
Managing Across Cultures & Frontiers
This class builds on the theories and concepts introduced in Managing in a Global Context in year 1 and International Business Analysis in Year 2. It does so by focusing more on the complex cross-cultural and human resource issues associated with the implementation of international business practice and strategies.
Management Development Programme 3
The third year of centres on individualised experience in an organisational context through one of the following pathways:
Internship/Charities - gain practical experience in a private or third sector organisation. You need to negotiate and locate your own organisation and experience – this is one of the key learning points of the pathway.
Research and consultancy - a facility for local small businesses to gain from the experience and expertise of those within SBS. You work on two live business consultancy projects (one in each semester) and, as a team of 6, develop solutions and strategic initiatives for the local SME economy.
International experience – only available for students who are undertaking an international exchange for either one semester or full year.
Vertically Integrated Projects - working on a cross-faculty basis to research longitudinal projects (including the 'Bill Gates Toilet Challenge, Solar Panels for Gambia and Enterprise in Schools) you work with a team of students from all levels of study (first year undergraduate to final year PhD) to further the work of the project.
In addition, you're required to undertake a social responsibility element (this accounts for one quarter of the overall workload).
These have been designed to provide support to the Curriculum for Excellence and the Widening Access to Higher Education programme. There are no formal classes for MDP3 although there is pathway support with the pathway leads and tutor support.
You'll study business classes taught in your language of specialisation and language classes taught in your language of specialisation. You may also undertake a credit bearing work placement with permission from the University.
In addition to this class, you'll also study one class from your principal subject area and two language classes. You'll also undertake your dissertation this year which should have a strong international business context.
Contemporary Issues & Trends in International Business
This class aims to introduce you to a range of contemporary issues impacting on business organizations and managers operating in an international context. It encourages you to think critically about recent trends and issues and will provide you with a range of conceptual models and analytical tools appropriate to the changing landscape of international business.
Triple-accredited business school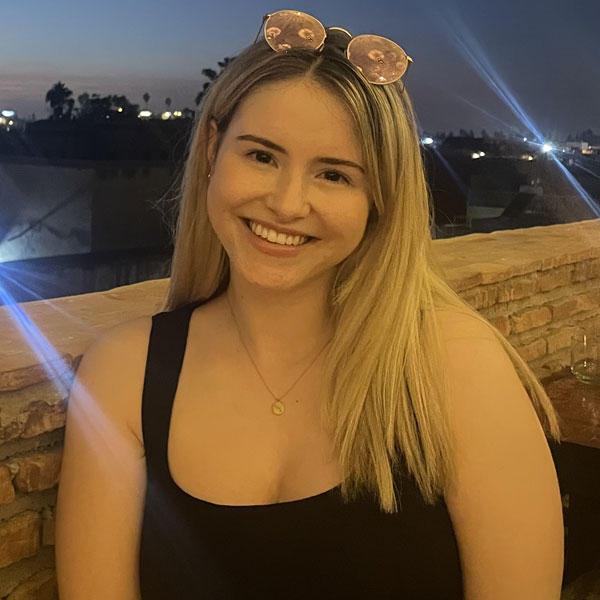 The year abroad that you have in 4th year has been a particular highlight of my degree. I spent a year studying at a prestigious business school in Nantes, France and found it was especially valuable in advancing my language skills and understanding of living/working in a different culture.
Olivia Ford
Learning & teaching
The course is taught by Strathclyde Business School and the Faculty of Humanities and Social Sciences.
Within the Business School, our international partners also contribute as guest lectures and in business games.
Language teaching is specially designed for students on this course and focuses on language for business.
The innovative and highly acclaimed Management Development Programme (MDP) is at the core of our undergraduate degrees in the Business School and comprises a series of classes which you take throughout Years 1 to 3.

You develop knowledge and skills in key areas of management, and team-working, communication and decision-making skills, all of which are highly sought-after by employers.

Major employers and alumni from all sectors are involved in the MDP, participating in group sessions, observing student presentations, and providing feedback. Organisations involved include Barclays, Deloitte, Procter & Gamble and Ernst & Young. In first year the best teams are selected to present to senior staff in one of the sponsoring organisations, and there are prizes for the best projects.

The programme builds your confidence and entrepreneurial capabilities and promotes awareness of globalisation and ethical issues in personal and business decision-making. In Year 3, you develop your own pathway from internships, involvement with business projects, engagement in interdisciplinary activities and business clinics.
Assessment
You'll be assessed through case studies, presentations, written and oral exams, projects and the Masters research dissertation.
Read what our students think
Back to course
Fees & funding
All fees quoted are for full-time courses and per academic year unless stated otherwise.
Fees may be subject to updates to maintain accuracy. Tuition fees will be notified in your offer letter.
All fees are in £ sterling, unless otherwise stated, and may be subject to revision.
Annual revision of fees
Students on programmes of study of more than one year should be aware that tuition fees are revised annually and may increase in subsequent years of study. Annual increases will generally reflect UK inflation rates and increases to programme delivery costs.
Go back
Scotland

2024/25: TBC
2023/24: £1,820

Fees for students who meet the relevant residence requirements in Scotland are subject to confirmation by the Scottish Funding Council. Scottish undergraduate students undertaking an exchange for a semester/year will continue to pay their normal tuition fees at Strathclyde and will not be charged fees by the overseas institution.

England, Wales & Northern Ireland

£9,250

Assuming no change in fees policy over the period, the total amount payable by undergraduate students will be capped. For students commencing study in 2024/25, this is capped at £27,750 (with the exception of the MPharm and integrated Masters programmes), MPharm students pay £9,250 for each of the four years. Students studying on integrated Masters degree programmes pay an additional £9,250 for the Masters year with the exception of those undertaking a full-year industrial placement where a separate placement fee will apply.

International

£19,600

University preparation programme fees

International students can find out more about the costs and payments of studying a university preparation programme at the University of Strathclyde International Study Centre.

Additional costs

International students

International students may have associated visa and immigration costs. Please see student visa guidance for more information.

International Business

Course materials & costs

Essential textbooks are approximately £200 per year. However, there will be a minimum of 2 copies of textbooks in the main library.

Other costs

depending on the subject studied in your final year, you may be required to submit a printed and bound copy of your dissertation, costs vary on the length of the document, but would not be expected to exceed £40
graduation gown hire

Study abroad

Typically, the cost of one semester abroad could be between £6,500 to £8,500 depending on the destination, currency exchange rates and lifestyle choices. Tuition fees are not paid to the exchange institution but continue to be paid to Strathclyde University in the usual way, however students are responsible for their own travel and living expenses i.e. flights, insurance, visa application, vaccinations/associated medical costs, accommodation, food, textbooks etc.

Students are eligible to apply for a student loan as usual but must let the award agency (e.g. SAAS) know that they will be studying or working overseas on a compulsory exchange.

Students may be eligible for external funding however this is not guaranteed; the University of Strathclyde will continue to participate in the Erasmus programme until May 2023 however are also participating in UK'S Turing Scheme. The Turing Scheme offer contribution towards living costs for students undertaking work or study abroad as part of their degree and is calculated based on length of placement and living costs at destination.

Students with an exchange place outside Europe are eligible to apply to the Neil Hood Memorial Fund for a scholarship. Full details of the application process are provided to all eligible students. Other scholarship opportunities may be available through the Alumni & Development department.

Modern Languages

Course materials & costs

The majority of course materials are available to students via Virtual Learning Environment (VLE). Students can print course materials at their own expense.

The cost of course texts does not normally exceed £30 per academic year. Key language texts are used over 2 or 3 years of study. Multiple copies are also available in the University Library.

Available scholarships

Take a look at our scholarships search for funding opportunities.
How can I fund my studies?
Go back
International Students
We have a number of scholarships available to international students. Take a look at our scholarship search to find out more.
Glasgow is Scotland's biggest & most cosmopolitan city
Our campus is based right in the very heart of Glasgow. We're in the city centre, next to the Merchant City, both of which are great locations for sightseeing, shopping and socialising alongside your studies.
Life in Glasgow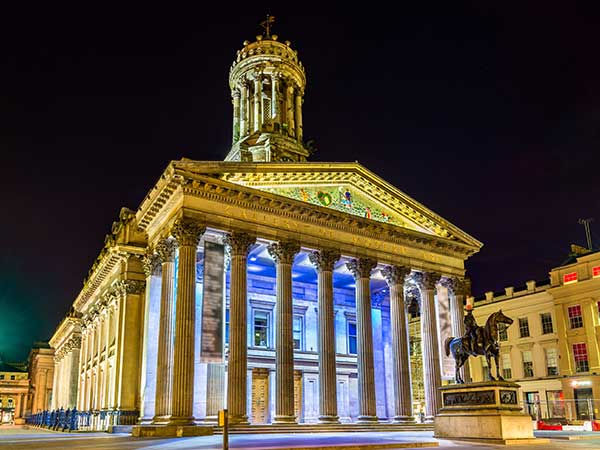 Back to course
Careers
Graduates with international business knowledge and language and cultural fluency are in demand. This is especially true as international trade and global commerce become more important,
Recent graduates have been recruited by major firms such as Accenture, Dresdner Kleinwort Benson and Kleenex.
Have you considered?
We've a range of undergraduate courses similar to this one which may also be of interest.