PhD research students Jeremie Warner and Stephen Spiers, the young entrepreneurs of 'Studio 2080' an ethical startup enterprise, introduce their Power a Life charger - your new wee 'PAL'.

The two current PhD students and young entrepreneurs have enjoyed a lot of good press and praise for the launch of their 'wee pal' and solar light scheme. Studio 2080 is an ethical business empowering communities in West Africa - part of a new wave of young entrepreneurs challenging the way that conventional businesses work. Using a hands on participatory design process, they are creating solutions to alleviate conditions in rural communities.
Their two current projects focus on the development areas of healthcare, education, agriculture and energy. To ensure that their work impacts positively on people, they are measuring this engagement through the 3 lenses of sustainability - social, economic and ecological. In Africa, talking to children and teachers, it soon became apparent to Jeremie and Stephen that one of the biggest issues affecting a child's ability to do well in school was completing homework at night. The Power a Life (the wee pal) project began.
Using a 'you buy one, one is sent free' model, linking the purchase of their wee pal phone charger to the donation of a solar light to a schoolchild, the scheme has taken off. Studio 2080 worked with government schools to organize the distribution of solar lights in areas without electricity. They visited every school to meet the children and their families. Hard working teachers measured the academic impact of being able to continue to study after school. There are wonderful photographs of the schools and information on the project in Senegal and the Gambia on their website. Jeremie and Stephen invite you to watch their videos, including one with Faba (a teacher at one of their partnered schools) about the positive impact having a solar light has on his students' lives. Their second project is also described on their website, a slow drip irrigation system to improve local crops.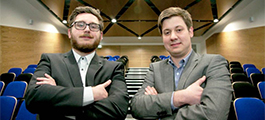 Follow the Studio 2080 success story so far; on Twitter, or by signing up for their newsletter, or go online to see videos and photographs of their work in progress. Stephen Spiers reports,
Education is one of the most powerful tools for reducing poverty providing a strong foundation for sustained economic growth. It provides people with the skills that can help them build creativity and develop careers. A good education also decreases levels of disease by increasing medical awareness. Increasing access to high quality water and food also reduces disease.

Studio 2080 Ltd is based in the Strathclyde University Incubator and it has received funding through Enterprise Campus. We engage with rural African communities to develop solutions that alleviate extreme poverty focusing on four areas of product and service design; energy, education, agriculture and healthcare. We empower local people with solutions that help them improve their own economic situations through the approach of 'trade not aid'.

We have made extended visits to rural West Africa to get a real understanding of our customers' needs. Working closely with communities we generated two pilot revenue streams: Power A Life which focuses on the supply of portable electricity and lighting to children in African schools and Micro-Drip, an agriculture irrigation project using low-cost, efficient watering systems to tackle the issue of crop growth in areas with little available water. These products help communities overcome the issues blocking their progress.
Perceptions of Africa are changing. No longer is it looked upon as a continent in need of handouts but a hub of entrepreneurial activity where people can be empowered with technology and skills to positively impact the countries they live in. By extending business focus past profits and working closely with communities to develop sustainable solutions, a positive economic outlook might not be too far away.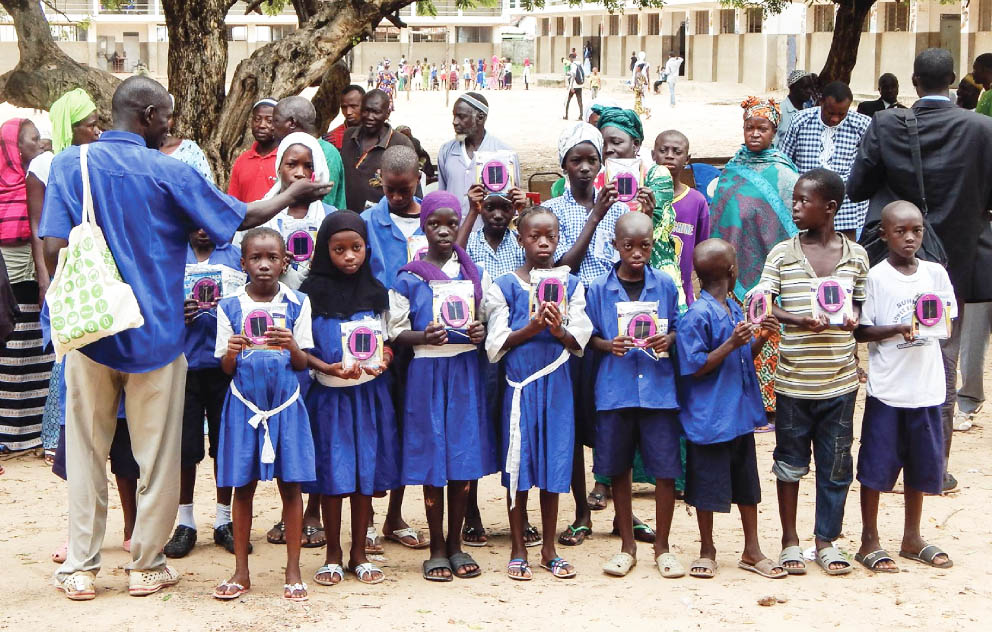 School children holding their own solar lights.
Order your own wee pal rechargeable power bank or treat a loved one - and Studio 2080 will send a solar light free of charge to a child without electricity in Africa on your behalf. You will help the kids study, improve their education and increase their opportunities for the future. Each light will give 3-5 hrs of light per night and recharge for free using sunlight during the day. Beautifully designed in 5 colours, slim, lightweight (only 90g) but powerful, a wee PAL gives you a full charge of your phone, tablet or anything else USB powered – quickly and simply. At 3000mAh, the power banks have enough energy to give a full re-charge for even the newest mobile devices.
Studio 2080 awards include
New Ideas Competition - Category Winners: Sustainability and Environment
Scottish Institute for Enterprise. March 2013.
Enterprise Challenge 2012/2013 - Overall runner up. Strathclyde University. April 2012
Enterprise Challenge 2012/2013 - Best 1min video pitch. Strathclyde University. April 2013
New Ventures Competition – Finalist Scottish Institute of Enterprise. May 2015.
Scottish EDGE Round 6 - Young EDGE Finalist. The Scottish EDGE Fund. May 2015.
Scottish EDGE Round 6 - Wildcard EDGE Winner. The Scottish EDGE Fund. May 2015.
Santander Universities Competition - Strathclyde University Postgraduate Entry. Santander Universities. May 2015.
Enterprise Campus - First intake of participants. Enterprise Campus Scotland. March 2015.
Young Innovators Challenge – Winner Scottish Institute for Enterprise. May 2015.
Scottish EDGE Round 7 - Young EDGE Finalist. The Scottish EDGE Fund. November 2015.