The Napier Shaw Bronze Medal 2015

Papers on ventilation and air tightness and on how users adapt to temperature in buildings in tropical climates have won annual awards from the Chartered Institution of Building Services Engineers.
Dr Stirling Howieson of the Department of Architecture with two colleagues; T Sharpe and P Farren of the University of Strathclyde, have won the Napier Shaw Bronze Medal for their work on the effect of air tightness on air quality in buildings, entitled Building tight – ventilating right? How are new air tightness standards affecting indoor air quality in dwellings? They found that current Building Regulations and Standards don't take 'real life' ventilation scenarios into account and that modern air-tight buildings are more likely to suffer from poor air quality.
Stirling Howieson, takes a look at the increasing prevalence of asthma and asks the question, are our homes making us ill?
The World Health Organization estimates that over 100,000 people die every year from conditions resulting from occupational exposure to asbestos. Similar to this, a significant proportion of asthma and related ill health is driven by poor indoor air quality.
The winners of this year's Napier Shaw Bronze medal received their prizes at this year's CIBSE President's Dinner, (9 October), alongside the winners of the Institution's other prizes. The Carter and Napier Shaw Bronze Medals have been awarded by the CIBSE for over 30 years, and are presented to the highest rated papers of the year on application and research respectively, published in CIBSE's Building Services Engineering Research and Technology journal (BSERT). BSERT editorial panel member Professor Tim Dwyer said:
The annual award of these two prizes is a celebration of the high quality research that goes on in the building services industry and published in BSERT. This year's winners are notable in that they both challenge the status-quo, and are a fine example of what CIBSE can bring to its membership by publishing BSERT and Lighting Research and Technology Journal online.
Building more air-tight dwellings is having a deleterious impact on indoor air quality. In a range of recently completed dwellings CO2 concentrations were measured in occupied bedrooms at unacceptable concentrations. Reducing ventilation rates to improve energy efficiency and lower carbon emissions (without providing a planned and effective ventilation strategy) is likely to result in a more toxic and hazardous indoor environment, with concurrent and significant negative long-term and insidious impacts on public health. 
Dr Howieson received his medal from the President of the CIBSE, on October 9th at a ceremony in the Royal College of Physicians in London.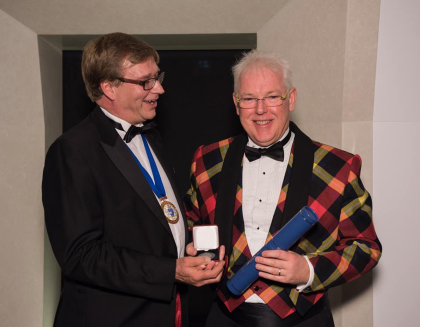 The Napier Shaw award presentation to Stirling was followed in December by the Scottish Edge funding awards Wild Card award.
Press coverage in: The journals Building Services Engineering Research and Technology, and Lighting Research and Technology Journal, CIBSE's two technical journals, published by Sage. They are available free of charge online to CIBSE members.