Centre for Lifelong Learning

Certificate in Counselling Skills
The Certificate in Counselling Skills course is designed, in association with Counselling & Psychotherapy in Scotland (COSCA), for people for whom counselling skills could be useful in their normal day-to-day work or as the starting point for a change in career. Successful candidates are awarded a COSCA validated Certificate in Counselling Skills. This course is credit-rated by the University of the West of Scotland (UWS) and maps onto the Scottish Qualification and Credit Network (SCQF) with 40 SCQF credits at level 8. It is one of the entry requirements for the MSc in Counselling & Psychotherapy at Strathclyde.
Do it, do not hesitate. I would do it again in a heartbeat; my only regret is that I waited so long in life to do this course. Janet McKay, COSCA Certificate in Counselling Skills 2022.
As well as familiarising participants with the counselling approach and a range of counselling skills, the course will also examine a number of key theories of counselling practice. Successful participants will gain an enhanced understanding of the human condition and human problems.
Is this course for you?
This class will benefit a wide variety of people working in business, industry and the public sector, including:
personnel & welfare officers
nurses & NHS support staff
social care and social workers
mental health workers
teachers
workplace & employee counsellors
voluntary workers in the community
personal development
The counselling course is delivered by experienced tutors who have many years of experience of both teaching and working as practitioners. Throughout your studies, you will be supported by your tutor to ensure that your experience makes the most of your particular skills-set.
Experiential course and emotional triggers
Please be aware...students will be using their own life experiences for skills practice and therefore applicants should consider if this is the appropriate time for them to undertake the course if they have recently experienced a serious emotional issue or traumatic event which may evoke strong emotional responses.
Attendance and study
Minimum attendance requirement (per module)
COSCA requires at least an 85% minimum attendance on each module of the course in order to facilitate progress and an award on completion. Therefore, if you miss three units, then you will not meet this minimum requirement and would be obliged to leave the course. It is your responsibility to ensure that you are able to meet this requirement and attend classes regularly; particularly sessions where filming, skills practice or presentations are taking place, as it will not be possible to rearrange these.
Additional work for missed units
Where students miss two units within a module and are still within the attendance requirements, then they will be asked to complete an additional piece of work for each unit they have missed to evidence private study and understanding of the missed topics.
In addition to timetabled class session(s) each week, you should aim to commit a further minimum of three hours study per week to complete the course.
Non-UK Applications
We regret that international applicants (Non-UK nationals), who are not domiciled in the UK, cannot be considered for any of the Counselling Skills courses as these are part-time, generally over 6-months in duration, and do not meet the minimum qualification level for a Student Visa at RQF level 7 (England, Wales and N. Ireland), or SCQF level 11 (Scotland). Applicants may be accepted under the Graduate route visa, so long as this is in place for course commencement and completion and all other requirements are met.
Exceptionally, if you are domiciled in the UK and you are an EU, EEA or Swiss Citizen and have indefinite leave to remain in the UK, or have been approved settlement, or pre-settlement status in the UK through the EU Settlement Scheme then you can apply.
No formal educational qualifications are necessary however; you should make it clear on the application form why you wish to take the course, by answering each question fully, as your reasons are important as a selection criterion. You may also be required to attend an informal interview as part of the selection process to clarify points raised in your application, or seek further information where little is given.
If you have had a recent bereavement or a significant traumatic life event then please make this clear within your application.
English language requirements
You will need a suitable minimum level of competency in the English language if your first language is not English or if you have not been educated wholly or mainly in the medium of English.
With the course emphasis on listening, on a variety of sensitive subjects, and responding clearly and with tact, in practice and assessment and including oral presentation and essay preparation, the Centre requires a minimum overall score of IELTS 6.5 with a minimum IELTS 5.5 in all skills, or equivalent. Tests are valid for two years and documentary evidence is required to support your application.
Online Attendance
Online requirements for participation. This is for online courses and for attendance at online guest speaker sessions, you must have:
Suitable device e.g. PC, laptop, iPad or tablet (a mobile phone is not suitable)
Broadband with a reliable wi-fi connection
Private space to engage in Zoom meetings and skills practice, free from interruption and to maintain confidentiality.
The Zoom app (free 40 minute version) for skills practice – installed on your device.
In the week prior to course commencement, there will be an induction session delivered via Zoom. You will have the opportunity to meet your tutor and the administrative support team online and ask any questions you may have.
This session is fundamental to orientate you in the access and use of Myplace and the expectations of participants on the Counselling Skills course.
The course consists of four modules, each comprising 30 hours of formal instruction. Over the course duration, these are accumulated to gain the Certificate in Counselling Skills. The four modules each contain elements of skills, knowledge and self-awareness, which includes an element of self-reflection within a confidential environment. There are four themes associated with the modules:
Module One: listening
Module Two: responding
Module Three: self-reflection
Module Four: integration
These themes develop an understanding of how counselling skills can be applied in a variety of situations such as relationships, managing change, stress, and bereavement and loss. The syllabus provides an important perspective on the difference between Counselling, a professional activity, and Counselling Skills, which could prove valuable for people in many occupations.
COSCA (Counselling and Psychotherapy in Scotland) provides a COSCA Counselling Skills information leaflet.
Formal instruction will be further enhanced by guest speakers, who are Counselling practitioners. The subjects of these talks are Person Centred Therapy (PCT), Sexual Exploitation, Sexuality, Attachment, Psychodynamic Therapy, CBT, Transactional Analysis and Adverse Childhood Experiences (ACEs).
There are three elements in the assessment process:
skills assessment (based on performance criteria demonstrated within listening practices, audio and video)
oral assessment (individual presentation)
written assessment at the end of each module
Oral assessment and written work enable the tutors to decide if participants have developed an acceptable level of understanding of the knowledge content within the course. They also provide tutors with evidence of the participant's level of self-awareness.
The use of counselling skills is generally assessed by observation of competence. Video and audio recordings are used to decide whether participants have reached the competence in counselling skills laid down in the performance criteria set by COSCA.
September 2023 courses
CS01/2: Tuesdays from 5th September; 18.00-20.30; Saturday attendance; on campus.
CS03: Wednesdays from 6th September; 10.00-12.30; Saturday attendance; on campus.
CS04/5: Thursdays from 7th September; 18.00-20.30; Saturday attendance; online.
CS06 Thursdays from 7th September 18.00-20.30; Saturday attendance; on campus.
CS07: Fridays from 1st September; 09.30-12.00; Saturday attendance; online.
CS08: Fridays from 1st September; 09.30-12.00; Saturday attendance; on campus.
CS09: Fridays from 1st September; 13.00-15.30; Saturday attendance; on campus.
Saturday attendance
All courses have some Saturday attendances so please check the relevant timetable to confirm that you are available to attend (you cannot miss any more than two units per module, otherwise you would need to leave the course).
Courses commencing in January and April 2024
Please email cll-counselling@strath.ac.uk and ask to be added to the alert list and you will be informed when the courses are about to become visible for booking.
Courses commencing and completed within one academic year are eligible for the SAAS Part-Time Fee Grant (PTFG), which was £428.00 in 2022/2023.
April commencing courses are not eligible for the SAAS PTFG because the 40 credits are accrued over two academic years and not one.
The 2023/2024 fee has been held at 2021/2022 levels. The full fee for the course is £1,628.00, payable over 4 modules at £407.00 per module and prior to commencement of each module.
Conditional offer
From the date of a conditional offer, you have two weeks in which to pay the Module 1 fee of £407.00* to secure your place on the course.
*Note: £100.00 of the fee is the deposit element for Module 1 and this deposit is non-refundable, if you should withdraw before the module commences, unless on medical grounds and evidence is provided to confirm this.
Subsequent fees (Modules 2-4) are payable prior to the start of each module.
If you withdraw from the course after the start date on any of the modules, we will retain the full fee for that module.
(Note: April-December 2024 courses are not eligible for the SAAS PTFG funding as these span two academic years. Students must therefore self-fund and/or be in receipt of employer's, or other, external sponsorship).
If you earn £25,000 or less and have been resident in Scotland for the past three years, then funding may be available to you through the SAAS PTFG. This will fund a portion of the course fee (i.e. £428.00 for Module 3 and the balance towards Module 4). Find out more about the Part-time fee grant here SAAS PTFG.
PTFG Process:
Apply only once the conditional offer of a place has been made by CLL and you have accepted the place and paid your Module 1 fee.
Create an account using the SAAS Account Registration function.
Submit a PTFG application via your account.
Once processed, SAAS will email you to login and check the award status.
A provisional Award Notice will be uploaded to your account.
SAAS will contact CLL to endorse the award i.e. CLL confirms that you are registered on the course.
SAAS will then confirm the award in your account.
You need to download the confirmed Award Notice and email it to CLL at cll-counselling@strath.ac.uk
CLL will then apply the funding for Module 3 (£407.00) and in part to Module 4 (£21.00). The balance of fees is payable by the student.
All students applying for the PTFG will need to pay for Modules 1 and 2. Potentially, you may also need to pay for Modules 3 and 4 if you have applied late and funding is not in place in time for commencement of these modules.
You can apply for the PTFG up to six months after your course commencement date.
SAAS funding is transferred to the University in late January, late March and in late June and students may need to pay for each of the modules until their funding is received from SAAS. Any excess payment due to the student will be reimbursed once the funding is received by CLL.
(Note: The April-December 2024 course is not eligible for SAAS PTFG funding as it spans two academic years. Students must therefore self-fund and/or be in receipt of Employer's, or other, sponsorship).
Please contact us if you have any questions about funding.
Credits and qualification level
Successful candidates are awarded a COSCA validated Certificate in Counselling Skills. This course is credit-rated by the University of the West of Scotland (UWS) and maps onto the Scottish Qualification and Credit Network (SCQF) with 40 SCQF credits at level 8.
Progression routes
The Certificate in Counselling Skills is self-standing and is used by participants as a means of enhancing their work performance; it is not a licence to practise as a counsellor. If you wish to train as a professional counsellor, the certificate is recommended as a foundation study to lead on to a Diploma in Counselling (generally, study at Diploma level also requires a degree level qualification). The certificate is also recognised by other institutions as a desirable qualification to gain prior to pursuing further study in the field of counselling or psychotherapy.
The University of Strathclyde now offers the MSc in Counselling and Psychotherapy for which the Certificate is one of the requirements for entry.
Market Stall event
A market stall event will be held around M3, with invited Diploma providers, to give you insight into further study at Diploma level and specialisation in different modalities.
September courses- application deadline
The closing date for September commencing courses is 31 July 2023.
Please note that places are offered on a first-come-first served basis, so long as all entry requirements are met, so it is in an applicant's best interest to apply early. Please also indicate more than once choice, if possible, as depending on demand, there may not be a place to offer you on your first choice and we will look to your second choice.
Waiting lists
If your preferred choices are not available then we will place you on a waiting list in case a place becomes available on any of your choices. Again, places are offered depending on who is next on the waiting list.
Applicant account creation
If you are a first-time applicant then you will need to register/create an account within the application site in order to complete an online application. If you are a returning applicant, then please use your existing account login. If you have forgotten your password, then please use the password reset facility.
Saving your application content
Note that when you access the application site you can start your application and revisit it later for editing before submission. In our experience, it is advisable to save your application responses to a separate Word document in case you have need of this later. Once you have edited your responses to your satisfaction then please submit your application.
Unsubmitted applications – routine site clearance
Please note: unsubmitted applications will be deleted from the booking site once the application deadline has passed.
APPLY HERE: Counselling Skills Application Site
Interviews
Please note you may be required to take part in an informal online interview before a place can be offered on the course.
Conditional Offers
Where an application meets all the requirements for acceptance, then a conditional offer will be made.
Further documentary evidence will be required:
Where English is not your first language, or you have not been educated wholly or mainly in English (e.g. IELTS). This is to evidence competency in comprehension, spoken and written English, all of which are essential for course completion.
To evidence UK residence status if you are an EU, EEA or Swiss national, or are domiciled in the UK and have leave to remain i.e. an HMVI settlement or pre-settlement sharecode or if non-EU, then your British Residence Permit.
Full payment of the Module 1 fee needs to be paid within two weeks of the conditional offer being made, as we will not hold places beyond this period of reflection.
Once satisfied that all the entry requirements have been met and the Module 1 fee has been paid, then the conditional offer is formalised and the place is confirmed.
Disability
The Centre for Lifelong Learning is committed to promoting and improving opportunities for students with disabilities. We therefore welcome applications from those who have any needs, which may affect their ability to complete the course successfully. Please indicate this on your application form and then, if you are offered and accept a place on the course, we will provide you with contact details to discuss the support you may need.
Mobility
If your disability is mobility related (in full or in part) then please indicate this in the application. A Personal Emergency Egress Plan (PEEP) will be drawn up so that we can assist you safely from the building in the event of a fire alarm or other emergency.
Data Protection
Please visit the University's Data Protection webpage for updated Privacy Notices for Students and Website Privacy Policy for information on how we will use your personal data and your rights under data protection legislation.
In the interests of public protection, COSCA sets standards for the complaints procedures of organisational members.
Full information on our procedure is available on the University's Complaints Procedure webpage.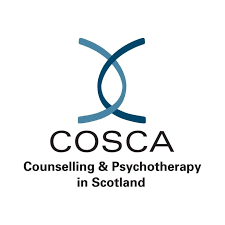 COSCA Organisational Member