Technology & Innovation Zone

FinTech
Financial Technologies (FinTech) dynamic nature is posing new global challengers and presenting new local, national and international opportunities. The term FinTech is broadly used to describe how technology is driving innovation within Financial Services organisations. FinTech represents a revolution in financial markets, heralding an era of cheaper, faster and more customized services. As part of the development of the Technology and Innovation Zone the FinTech cluster is working with a wide range of Financial Services and FinTech companies to develop an interdisciplinary approach that will focus on skills development, creating an impact on society and policy and nurturing ecosystem growth.
The cluster is creating multidisciplinary research in collaboration with external partners and organisations across the local, national and international levels. The FinTech cluster has also developed innovative teaching, research and knowledge exchange opportunities.
What is FinTech?
Scotland has long been recognised as an international finance centre. Today, some of the world's largest financial services companies have a significant presence in Scotland, including, recent large-scale developments by Barclays, JP Morgan and Morgan Stanley. Economically, financial services and related business services continue to be important employer with over 160,000 jobs and a major contributor to economic performance with around £8Bn annually.
FinTech can be described as tech-driven financial innovations that could result in new business models, applications, processes and products with an associated material effect on financial markets, related institutions and the provision of financial services. There are now over 170 FinTech companies in Scotland (areas below) and as an emergent, dynamic and fast-growing industry, FinTech is having a significant impact on new job opportunities, wealth generation and is providing new prospects for inclusive growth :
Blockchain & Cryprocurrency
RegTech & Security
Personal Finance & Wealth Management
Data, Cloud & Analytics
Payments & Transfers
Insurance
Capital Markets
Business Solutions
Alternative Lending, Finance & Marketplaces
Watch: The fintech sector in Scotland
FinTech Scotland brings expertise from industry into the cluster. This enables knowledge sharing and learning through best practice. The University of Strathclyde is well-positioned to bring expertise from humanities, financial services, as well as different disciplines from across the entire university to help address the significant challenges facing the sector such as enabling efficiencies in regulatory compliance and advancing risk management models through RegTech.
Nicola Anderson, CEO, FinTech Scotland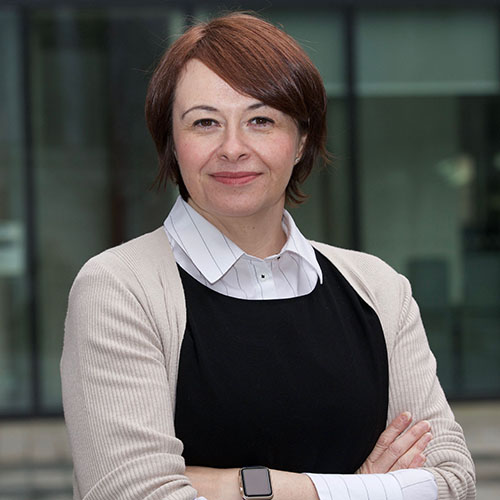 What is the research expertise of the cluster?
Strathclyde is committed to the development and growth of FinTech in Scotland with the FinTech Cluster operating as an effective (internal) coalescing and (external) facilitating mechanism in order to unlock the potential of the University's FinTech-related inter-disciplinary research expertise that align well with the FinTech company areas (above). The FinTech Cluster is organised around four main thematic areas and is supported by the activities of a range of related research centres (below):
Technology Innovation
Building upon expertise in our Faculties of Science and Engineering, the cluster has research experience on Cybersecurity, Analytics (Artificial Intelligence and Machine Learning), Information Retrieval, Data Protection, and Human Factors.
Key research centres
Financial Disruption
Recognising the significant disruption created by new technology, the clutser has focused on areas around Financial Innovation in Services, RegTech, Procurement Tech and Digital Law.
Key research centres
Operational Resilience
We want to ensure that the new technology is embedded within the systems and processes and policy currently deployed within organisations to drive value. On this, we have active research projects in Digital Transformation, Strategy, People and Organisations and Open Innovation.
Key research centres
Skills & Scaling
We are currently developing customised education programmes for companies wanting to get into the FinTech space or financial services organisations who want to upskill staff and scale their business.
Key research centres

How can I engage with the FinTech cluster?
The growing financial services community in Scotland creates a significant opportunity for Strathclyde to deliver economic and societal impact through engagement with industry, both large scale financial services and SMEs (FinTechs).
Reflecting the hybrid nature of FinTech, the FinTech Cluster has a multi-disciplinary approach involving academic colleagues across each Faculty. The Cluster seeks to deliver world-leading, multidisciplinary research to inform excellent, useful learning experiences and to provide evidence, knowledge and advice.
There is also the opportunity to co-locate within Glasgow City Innovation District and integrate with the other industrial clusters including 5G, HealthTech, Industrial Informatics, Quantum and Space.