Congratulations to Aleksandra and Xunhern in the Scottish Government Designing Places Student Competition, held at the Lighthouse in Glasgow.
The Scottish Government's 'Architecture and Place' programme aims to forge closer links with Universities.
The masterplanning competition is an annual competitive event hosted by the Scottish Government, now in its sixth year. Congratulations and well done to everyone who took part in the day. Strathclyde had two students in the wnning team, Aleksandra Patarova (Yr Architectural Studies) and Xunhern Liaw (Yr Advanced Architectural Design). They are pictured here with their award copies of the monograph 'Leon Krier: Drawings, 1967-1980'. The winning team of 6 students called themselves 'The Visionaries'.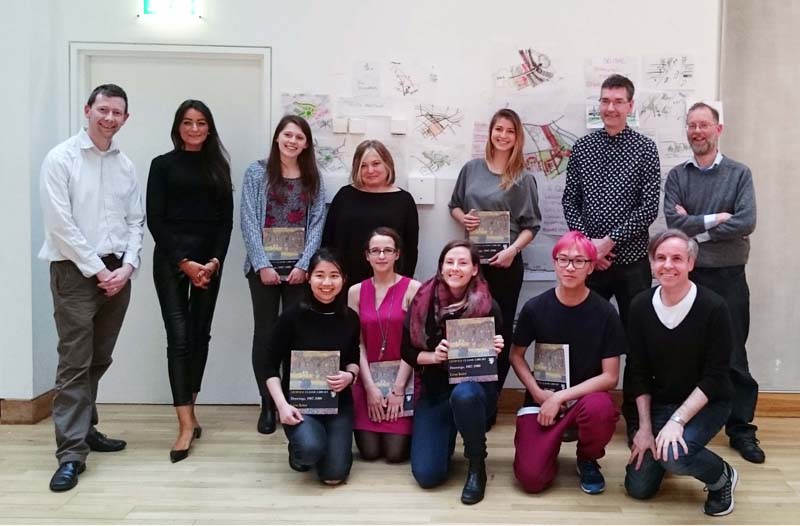 This year's event took place on March 12th in the Lighthouse and was described as a 'hive of activity' as students worked to create imaginative plans for the future of the small town of Callander, a popular base for tourists exploring the Loch Lomond & The Trossachs National Park and 'Rob Roy Country', or stopping off on their way to the Highlands. Set dramatically beneath high, wooded crags, the town is crammed with teashops and souvenir shops.
The professional participants in the 2016 event were Rowena Statt (Anderson Bell Christie), Ian Alexander (JMArchitects) and Steve Hunt (Scottish Futures Trust). They 'did an excellent job' along with Kristen Anderson and Stuart Watson (Scottish Government). The guest judge was Stuart Mearns who collaborated with Ian Gilzean (Chief Architect) and Steve Hunt.
Students from courses in architecture, landscape architecture, urban design and planning from across Scotland attended the live masterplanning class. Work of outstanding quality was produced during a fast paced session by all teams. The judges were impressed with everyone's dedication, team work and excellent outputs. Each of the teams imaginatively dealt with their designs for the site, making it very difficult to reach a decision. The event was captured on the Scottish Government's Twitter pages. (link to #DPSC2016 ).
Guest judge Stuart Mearns is the Head of Planning and Rural Development at Loch Lomond and the Trossachs National Park (in photograph on left hand side) shown beside the organisor Susie Stirling of the Scottish Government.
Some photographs of the event will be updated in: The Scottish Government Placemaking competition website. The day was led by Susie Stirling, Head of 'Placemaking and Housing' which is the government department devising 'Policy and Guidance on Urban Design and Placemaking' she commented,
Congratulations to 'The Visionaries' and well done to everyone who took part on the day as the standard was very high this year.
The Department's students have enjoyed success in this event, being in the winning teams over many years. In 2015 our students Jessica Gaudi Cowan (Yr 2) and Johanna Rosvall (MSc UD) were also in the winning team, "'The Urbanites'. The winning students were invited to attend the Scottish Awards for Quality in Planning (SAQP) in November to be presented with their certificates.
2014: First prize winning team: Aisha Abubakar (PhD) and in the second placed team: Sandra Diana Mostis (Yr 2).
2013: First prize winning team: Amanda Ooi (MArch AAD).
2012: First prize winning team: Mathew Spurway (MSc UD).
2011: First prizewinning team: Dale Smith (MArch AAD)