Key facts
UCAS Code: C8B9

Accreditation: provisional COSCA (Counselling & Psychotherapy in Scotland)

Study mode & duration: 36 months or 48 months full-time
Study with us
study psychology with an applied focus
benefit from training in Person-Centred Counselling
gain broad-based knowledge of the core domains of psychology and training in counselling skills
the degree meets the requirements for Graduate Basis for Chartered Membership with the British Psychological Society
develop enhanced interpersonal communication skills. Gain the award of a COSCA-accredited Counselling Skills certificate
Back to course
Why this course?
This three or four-year* joint honours programme offers a route for students to combine psychology and counselling studies. The course will prepare you for further postgraduate study in counselling, counselling psychology or psychology, or for employment in other professional roles (eg support work) which would benefit from counselling skills training and an understanding of counselling theory.
Person-centred-experiential counselling and psychotherapy is internationally recognised and one of the leading therapeutic approaches to mental health and well-being. The combination with psychology will enable students to approach a range of clients across a broad spectrum of psychological distress. It'll equip you with the skills to critically assess an evidence base and develop appropriate theoretical questions and methodology to further your professional development and knowledge.
Our current courses meet the requirements for the Graduate Basis for Chartered Membership (GBC) with the British Psychological Society (BPS), and a COSCA-accredited Certificate in Counselling Skills is embedded within this course. However, it will not in itself represent a professional qualification in psychology, counselling or counselling psychology.
*Applicants with A-level qualifications or equivalent may qualify for direct entry to Year 2. Other applicants will be required to successfully complete a foundation year on our BA Psychology programme.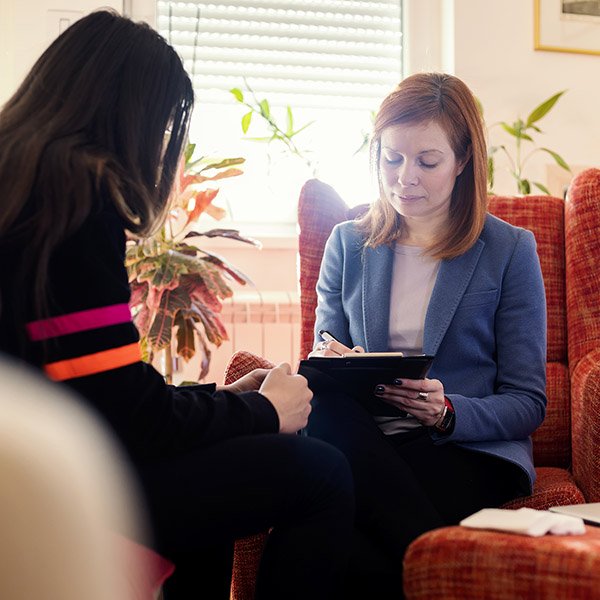 What you'll study
Students on the four-year course will take Year 1 of the BA Psychology programme.
Psychology
Year 2 classes: Social & Health Psychology, Cognition & Neuropsychology, Introduction to Research Design & Analysis
Year 3 classes: Research Methods in Psychology, Individual Differences, Social Psychology
Year 4 classes: Honours Development, Honours Cognition, Honours Psychobiology
Counselling
Year 2 classes: Theories of Counselling/Psychotherapy, Positive & Humanistic Psychology, Mental Health Difficulties
Year 3 classes: Person-Centred Theory, Personal Development, Counselling Skills Laboratory
Year 4 classes: Counselling Skills Practicum or Counselling Research Practicum
Dissertation
The Year 4 Dissertation is supervised by the School of Psychological Sciences & Health on a topic that is psychological in nature and focuses on aspects of clinical/counselling psychology and/or therapeutic/behaviour change interventions.
Major projects
The Counselling Skills Laboratory contains a skills practice component which is part of the final assignment. Although this doesn't equip students to practice as therapists, it does appeal to employers and further training institutions, because it develops improved listening skills which are advantageous in a wide range of psychological interventions. The psychology dissertation requires a substantial empirical study in psychology or counselling, evidencing all aspects of the research process.
Facilities
You'll have access to general computer and experimental labs as well as specialised labs including:
customised counselling suite
eyetracking labs
driving simulator
psychophysiological equipment
motion tracking lab
How to become a psychologist
Find out all you need to know including what a psychologist does, the different types of psychologist and the steps you need to take to become one.
How to become a psychologist
Social & Health Psychology
This class introduces social psychological theories and research that provide insights into why people believe what they believe, and why they behave the way they do.
Topics covered include attribution theory, aggression, prosocial behaviour, group influence, norms, conformity, obedience, and attitudes.
It ends with an introduction to health psychology, demonstrating how social psychological principles covered earlier in the class are applied to pressing, real-world health issues such as dietary behaviour, smoking/alcohol-use, and suicide.
Introduction to Mental Health Difficulties
This class will provide students with an introduction to and a deeper understanding of the range of different forms of psychological difficulty, in both adults and children. It covers syndromes of psychological difficulty, the key theories for their aetiology, and the main methods for assessing, studying and treating the different forms of psychological difficulty.
Introduction to Research Design & Analysis
You'll be introduced to the main features of measurement, research design, and statistical analysis in psychology.
Following a general introduction, the course presents fundamental concepts, issues, and debates in the field of research methods.
You'll also become familiarised with the conceptual basis for inferential statistical testing, and introduced to different inferential statistics. Finally, a brief introduction to qualitative research methods takes place.
Theories of Counselling/Psychotherapy
In this class, students are introduced to a range of approaches to counselling/psychotherapy, including important theoretical models such as Psychodynamic, Cognitive-Behavioural, Humanistic-Experiential, and Systemic models.
It will cover classic approaches and more recent variations and developments, as well as integrative/pluralistic approaches.
Each of these theoretical orientations approach the sources of human function and dysfunction from different perspectives and offer different understandings about how human beings overcome psychological difficulties and engage in productive psychological change.
Cognition & Neuropsychology
This class reveals how our understanding of higher mental functions has been enhanced through:
theoretical and experimental studies of normal human cognition
neuropsychological studies of how cognitive functions may be damaged as a result of brain lesions
Topics covered include disorders of the perceptual system, memory and attention, and the role of the frontal lobes in planning, motivation, emotion, and personality.
Positive & Humanistic Psychology
This class will cover a range of approaches to psychology that emphasise human experience and potential for positive adaptation, growth and happiness.
It'll cover both humanistic and positive psychology approaches. It'll first address classic forms of humanistic psychology, including existentialism, self-actualisation, human potential, phenomenology, the person-centred approach, and gestalt therapy. Then it will turn to recent developments in positive psychology, which emphasises factors that contribute to human flourishing, including character strengths and virtues, positive emotional states, mindfulness, and meaning/purpose.
Research Methods in Psychology
This class builds on year 2 and equips you with a broader, more advanced set of methodological and analytic skills. These skills are essential for carrying out the year 4 dissertation and for being able to read and understand articles published in academic journals.
Person-Centred Theory
This class will explain, explore and critically evaluate the principal theoretical approach adopted by the counselling component of the course: the person-centred-experiential approach to counselling skills.
Personal Development
This class builds on the more general foundation theory classes from Year 2 of the course. Counselling skills consist of three components:
knowledge: theory and conceptual frameworks that guide action
experience: self-awareness, self-acceptance and resilience under stress, including encountering diverse and difficult experiences and personal blocks
action: putting theory and experience into practice
Each of three classes in the Counselling track of Year 3 focuses on one of these components. The Personal Development class focuses on two main strands of the experiential component of counselling skills: Discovering and confronting attitudes that inhibit the course member's functioning; and moving towards becoming more self-accepting and having greater confidence in personal congruent functioning.
Counselling Skills Laboratory
The Counselling Skills Laboratory consists of three components:
knowledge: theory and conceptual frameworks that guide action
personal development: self-awareness, self-acceptance and resilience under stress, including encountering diverse and difficult experiences and personal blocks
interpersonal skills: putting theory and experience into practice
Individual Differences
You're encouraged to think scientifically about conceptual and practical issues related to the study of individual differences, with specific reference to intelligence and personality. You'll gain the chance to put this knowledge into practice by designing your own measurement instrument.
Social Psychology
This class allows you to consider current ideas and positions within social psychology. Four themes drive the class
Attitudes and attitude change, covering the Theory of Planned Behaviour and the Health Belief Model
Identity, with a focus on social, personal and group identities
Prejudice, connecting both attitudes and identities, and covering a broad range of areas such as social representations, stereotyping, prejudice and conflict
Epistemology, where consideration is given to the theory of knowledge, how social psychological knowledge is produced, and to what effect
Honours Development
This class will focus on key developmental issues across infancy, childhood, and adult life. Infant development will cover language development, attachment, perceptual development, and cognitive development. For childhood and adolescence, issues of problem solving are explored as is social development.
Concerning adult development, we focus on the influence of healthy ageing on the brain and cognition, pathological ageing processes (dementia), and successful ageing.
Theory pertaining to all aspects of the course will be presented and critiqued in light of available empirical research.
Practical Experience: Counselling Skills/Research
This class is intended to provide continuing practical experience in counselling skills and/or counselling research. There are two possibilities here: first, students can elect to volunteer in a community setting in which they can apply the counselling skills they learned in Year 3 (eg Samaritans, Childline).
Second, they can volunteer to work on a counselling research project, most commonly in the Research Clinic, using the research methods skills they learned in Years 2 & 3.
Psychology Dissertation
This compulsory class provides students with the opportunity to conduct an independent piece of research, under the guidance of a supervisor, within any area of psychology.
It demands the integration of research methods training, literature reviewing skills and an understanding of ethical considerations that students should have developed in the first three years of their Psychology degree.
Undertaking an empirical project/dissertation is a core requirement of the British Psychological Society Graduate Basis for Chartered Membership.
Honours Cognition
This class will introduce students to some of the core topics in face and object recognition, perception, language, thinking, learning and memory, and to explore the key theoretical debates within these areas.
Honours Psychobiology
The purpose of this class is to provide the opportunity for students to learn the basic principles of brain function, and to encourage students to address the implications of this understanding for their own view of how behaviour is generated.
This will allow students to develop a model of brain function that will allow a more critical evaluation of psychological theories in other areas of psychology.
Learning & teaching
The psychology course content is primarily lecture-based, supported by tutorials, laboratory practicals and supervised research work.
The counselling part is delivered using a combination of large group formats (lecture/workshop/group work) and small group formats (tutor groups/skills practice) plus online learning inputs. Students will be expected to supplement class time with directed and self-directed learning. Students will also be required to conduct a listening session that demonstrates their listening skill with someone in the community.
Assessment
Assessment methods include:
written exams
multiple choice exams
reports
presentation skills
dissertation
Back to course
Fees & funding
All fees quoted are for full-time courses and per academic year unless stated otherwise.
Fees may be subject to updates to maintain accuracy. Tuition fees will be notified in your offer letter.
All fees are in £ sterling, unless otherwise stated, and may be subject to revision.
Annual revision of fees
Students on programmes of study of more than one year should be aware that tuition fees are revised annually and may increase in subsequent years of study. Annual increases will generally reflect UK inflation rates and increases to programme delivery costs.
Go back
Scotland

2023/24: TBC
2022/23: £1,820

Fees for students who meet the relevant residence requirements in Scotland are subject to confirmation by the Scottish Funding Council. Scottish undergraduate students undertaking an exchange for a semester/year will continue to pay their normal tuition fees at Strathclyde and will not be charged fees by the overseas institution.

England, Wales & Northern Ireland

£9,250

Assuming no change in RUK fees policy over the period, the total amount payable by undergraduate students will be capped. For students commencing study in 2023/24, this is capped at £27,750 (with the exception of the MPharm and integrated Masters programmes). MPharm students pay £9,250 for each of the four years. Students studying on integrated Masters degree programmes pay an additional £9,250 for the Masters year with the exception of those undertaking a full-year industrial placement where a separate placement fee will apply.

International

£17,400

University preparation programme fees

International students can find out more about the costs and payments of studying a university preparation programme at the University of Strathclyde International Study Centre.

Available scholarships

We have a wide range of scholarships available. Have a look at our scholarship search to find a scholarship.

Additional costs

PVG scheme

Must pay for own PVG (£59) if 4th Year placement requires one but students can choose placements without this requirement.

Visa & immigration

International students may have associated visa and immigration costs. Please see student visa guidance for more information.
How can I fund my studies?
Glasgow is Scotland's biggest & most cosmopolitan city
Our campus is based right in the very heart of Glasgow. We're in the city centre, next to the Merchant City, both of which are great locations for sightseeing, shopping and socialising alongside your studies.
Life in Glasgow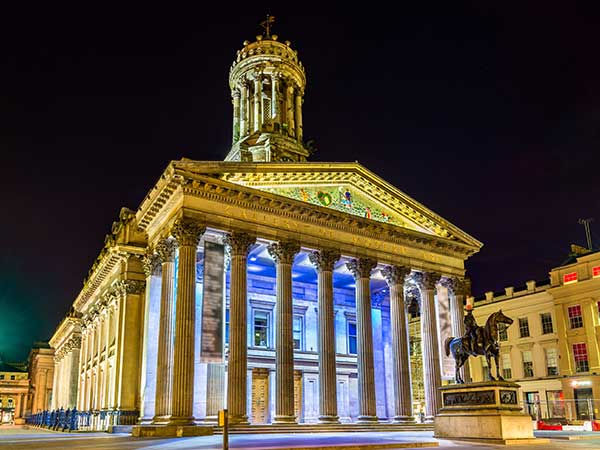 Back to course
Careers
This course provides students interested in a more applied focus to their psychology degree with foundation training in counselling skills and theory.
Such a background will allow graduates to:
proceed to postgraduate education in Psychotherapy/Counselling or Counselling Psychology, or Psychology
enter the workplace in support work or other roles that require basic psychological helping skills, referred to as 'embedded counselling' roles
Students who gain a Graduate Basis for Chartered Membership with the British Psychological Society will be eligible for research assistant and assistant psychology roles or access to further professional training in psychology.
Chat to a student ambassador
If you want to know more about what it's like to be a Humanities & Social Sciences student at the University of Strathclyde, a selection of our current students are here to help!
Our Unibuddy ambassadors can answer all the questions you might have about courses and studying at Strathclyde, along with offering insight into their experiences of life in Glasgow and Scotland.
Chat to a student ambassador
Have you considered?
We've a range of similar courses which may also be of interest.