Scott O'Connor, Diploma in Professional Legal Practice Student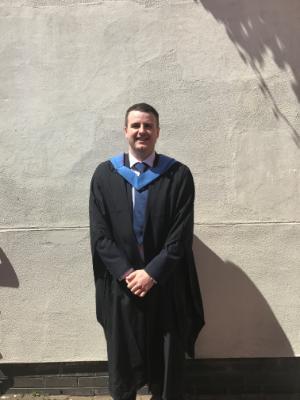 I never thought that when I left school at 16 to begin an engineering apprenticeship that I would be on the final leg of my journey to become a lawyer. It has been a challenging journey, studying the LLB degree full-time while raising a young family and working part-time, but it has been a worthwhile and enjoyable experience.
I always wanted to go to university and law was always my favoured subject. My plan was to complete my apprenticeship and go to university. This would give me a career to fall back on. However, the birth of my first son stalled my plans, I felt I had to continue working to provide for my family, something I done for another four years. It took the tragic event of my Dad passing away to inspire me to follow my dream of studying law.
Initially, I studied the part-time Pre-entry course at Strathclyde to gain entry on to the degree. I then undertook the full-time LLB (Hons) degree. During this time, my partner and I were fortunate enough to add two more boys to the family. This had a significant impact on our finances and there were times that I thought that it would have been easier to go back to work. The problem with that was that I had become a member of the University of Strathclyde Law Clinic and saw first hand how much I enjoyed the practice of law in real-life situations. It was then that I realised I had a real passion for law and wanted to become a solicitor more than ever.
Once I found out my degree results, I applied for the Diploma in Professional Legal Practice. I then realised that without financial assistance I would struggle to fund the course by myself. I was made aware of the John Fitzsimons Memorial Scholarship and decided to apply as I fit the criteria and our stories were not too dissimilar. If it hadn't been for the Scholarship I wouldn't have been able to study the Diploma this year. I was delighted when I received the email notifying me that I had received the Scholarship.
I will be eternally grateful to the Memorial Fund because it has given me the opportunity to continue to do something that I am passionate about.
Daniella Russo, LLM/MSc in Criminal Justice and Penal Change Student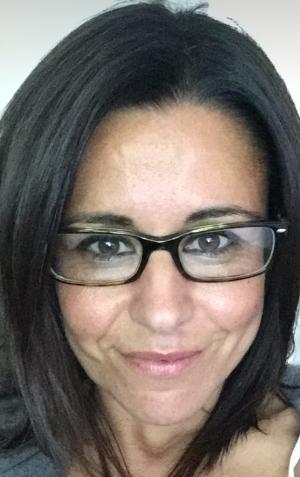 My university educated began in 1995 at the University of Glasgow where I studied for my LLB and I graduated in 1998 having given birth to my daughter Megan. At that time, I was stuck in a both physically and mentally abusive relationship and felt at a loss as to what I could do as I was continually prevented from fulfilling my ambitions. Eventually, I left my marriage when my daughter was 15 months old and I started again and vowed that she would be my priority and motivation for continuing my education. Megan was then diagnosed with Asperger's Syndrome and inevitably this changed all plans that I had. I knew that I would have to put my own ambitions on hold during her formative years growing up. All through this period I was also suffering from an eating disorder and at times found it an incredibly difficult task to cope with everything that I was facing as a young single parent but I couldn't simply give up. I had someone else to consider, whose needs were far greater than my own. I went on to have my second child in 2004 and having made the decision that both of my children were at a stage in their own developments that I felt comfortable with, I decided to think about my own career again.
Sadly, having made my decision to apply for a place on the LLM course, my husband and I separated and once again I found myself as a single parent. I was entirely unsure as to whether or not I would be able to deal with the pressure of the LLM with no support and I certainly knew that financially I would really be struggling to keep the stability going for the kids, particularly Megan who as part of her condition finds any change incredibly unsettling. I made the decision to apply for the scholarship in the hope that maybe I could just get one little bit of luck to help me move forward.
Sometimes that's all that it takes, just one person or one event to show that your ideas, your intelligence, your value is worth being invested in and not necessarily always within a financial context. It could cover many areas of any individual's life, and looking forward, this is what I hope I am able to do with my opportunity. I want to be able to take the faith, trust and belief shown to me, through the awarding of this scholarship, and use it to help someone else. In a society now where so much is about what we can have and what we can get, I'd like to use this Masters course and the wonderful learning I am experiencing right now to help give something back to someone else who probably has never been given half of the opportunities that I have been fortunate enough to experience.
I know first-hand how difficult, demoralising and frustrating it can be to feel like what you want to achieve, what you know is within you, is just no matter how much you try, simply too far from your grasp to be able to reach it and progress. This scholarship has afforded me the chance to grab onto something with both hands, and my commitment to this Memorial Fund is that this gesture be replicated in my own career now, in order that as a result of your faith in me, far more people will eventually feel some of that benefit in their own lives too. I can't thank contributors to The John Fitzsimons Fund enough.
Clare McBride, Diploma in Professional Legal Practice Student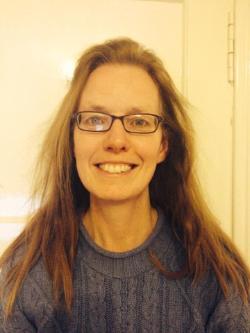 When I received a letter informing me that I had received financial assistance towards my first year of the part-time LLB course I was really happy. I am a working mother of three children. I also have a carer's role for dependents within my family. Because of these personal circumstances I changed from a fulltime teaching job to a job share position. My salary and my husband's does not stretch very far, so finding the funding for the law course was very worrying.
I have always wanted to study law, but haven't had the opportunity to do this up until now. The funding from the John Fitzsimmons Memorial Fund has made things a lot easier for me when trying to find payment for fees and books for the law course. Because of the family, and work responsibilities I have, my life can be very busy and very stressful. However, I really enjoy the law course, it's something for me, and it makes me really happy. I have met a lot of interesting and learned professors and many friends, have learned an awful lot about law in this first year alone, and I always look forward to my interesting evening lectures. All of this has been assisted greatly by the fund I received from the John Fitzsimons Memorial Fund. I am extremely grateful to the fund.