"Building the necessary infrastructure to support a digitised world and stay current… will be essential for any business… to remain competitive in a post Covid-19 world."
(FT. 2020)
From artificial intelligence to real-time communication and the Internet of Things, digital technologies have transformed the business landscape and consequently the marketplace that you are about to enter.
Research suggests that successful Digital Transformation requires both digital-knowledgeable leaders and a workforce which is prepared to embrace and adapt to new ways of working. This free of charge course has been designed to support you as you prepare to enter the workforce by providing you with a fundamental understanding of key digital transformation concepts, from specific digital technologies, to the challenges associated with their adoption. We hope that this course will help you to think critically of how digitisation could impact the workplace and better prepare you for the future workplace.
This course focuses primarily on manufacturing environments as this is a high-value area of employment but also because it makes it easy to share tangible outcomes from successful digital technology implementations. However, the concepts covered are equally applicable to other sectors and environments.
Topics covered in the course:
Introduction to digital transformation
Drivers for digital transformation
The building blocks of Industry 4.0
Emerging technologies and trends in the manufacturing industry (including additive manufacturing, industrial internet of things, artificial intelligence, data, augmented reality, virtual reality and collaborative robots) and their role in production, design and future supply chains.
Digital transformation challenges
The role of new business models
On the course you will:
Develop a knowledge of digital transformation
Be introduced to emerging technologies
Gain an insight of the digital manufacturing landscape around the world
Who should attend?
This course is available to all University of Strathclyde students graduating on 2020 interested in expanding their knowledge and understanding of modern digital technologies and their application in manufacturing environments. However, it is not necessary for you to come from a manufacturing or engineering background.
The course is delivered by the Department of Design Manufacture and Engineering Management on behalf of the Manufacturing Skills Academy at the National Manufacturing Institute Scotland. This course has been funded by Mr Donald Calvin, University of Strathclyde alumni.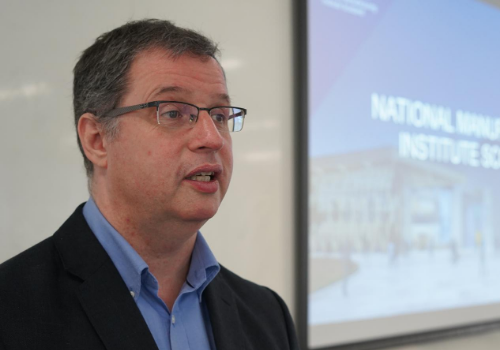 Who you will learn with?
Dr David Butler is a Reader in Manufacturing within the Department of Design, Manufacturing & Engineering Management at the University of Strathclyde. Prior to joining Strathclyde in 2017, David spent the last 18 years in Singapore where he co-founded the Advanced Remanufacturing & Technology Centre (ARTC). David has successfully delivered on a number of industry projects for companies such as Global Foundries, 3M, Pratt & Whitney and Rolls-Royce.
Technologies in the manufacturing sector are being introducted at such a rapid rate, that further training is often required to increase the employability opportunities of the workforce. By being trained in the Industry 4.0 transformation, our recent graduates will be enabling an improvement in their future career prospects in the manufacturing industry.


Read more about Dr David Butler here Meet Dr David Butler in this short video outlining the course
Related courses