Key facts
UCAS Code: M114

Accreditation: Law Society of Scotland and Faculty of Advocates

International experience: study at our partner law schools in Toronto, Maastricht & Copenhagen

Part-time study: available (6 years/5 for graduate entrants)
Study with us
gain practical court-room experience through the Mooting Society and enter competitions
benefit from high-quality research-led teaching at one of Scotland's leading providers of legal education
study abroad at our partner law schools
Back to course
Why this course?
The Law School at Strathclyde is one of Scotland's leading providers of legal education.
Studying law concerns the obligations, duties and rights of every member of society in relation to their neighbours and to society.
Our expertise extends beyond the traditional core subjects essential for entry to the legal profession into construction law, criminology, human rights law, information technology and telecommunications law, mediation studies and international economic law.
We are home to Scotland's biggest student-run Law Clinic, which offers a unique, real-world, learning environment, and to Ardcalloch, a virtual community where the legal issues of everyday life are played out.
All of our LLB graduates satisfy the professional requirements of the Law Society of Scotland and the Faculty of Advocates. This means you can continue to the post-degree stages of professional training required to become a practising lawyer in Scotland.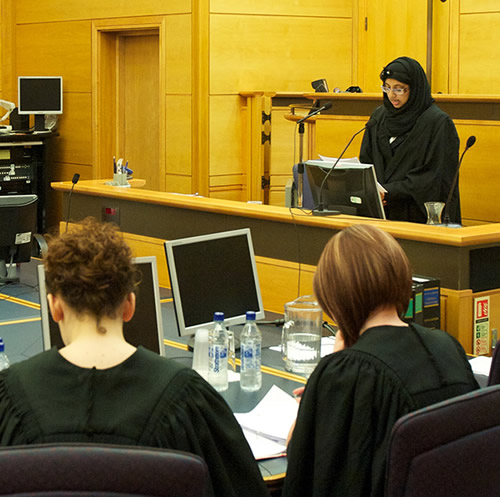 What you'll study
A typical four-year LLB (Honours) curriculum covers many subjects, from the basic sources of law and the way in which they are used, to analysis of the major issues facing a particular area of law at any given time.
As well as core law classes taken by all LLB students there is the opportunity to take optional law classes in Year 3.
The following curriculum is a typical course of study for a full-time student, incorporating some compulsory classes and others that enable graduates to gain full exemption from the Law Society of Scotland's professional exams. Please note that some classes may be subject to change.
Year 1
Criminal Law, Legal Methods, Legal Process, Law and Society, Public Law 1 and Voluntary Obligations: Contract and Promises.
Year 2
Commercial Law, Domestic Relations, EU Law, Property Trusts & Succession, and Involuntary Obligations: Delict and Unjustified Enrichment, Public Law 2.
Year 3
Evidence, and five class options. In recent years these have included: Competition Law; Crime and Punishment; Discrimination Law; Employment Law; Housing Law; Human Rights Law; Internet Law; Law, Film and Popular Culture; Legal Theory; Planning Law; Public International Law; Roman Law.
Year 4
As an Honours student, you'll take four optional classes as well as write an 11,000-word dissertation. Formal lectures are replaced by seminars in the final year.
Other study options
LLB Clinical
This is a unique opportunity to enhance your understanding of law by applying it in a real-life context. Find out more about our LLB Clinical.
LLB Part-Time
Part-time study of the LLB normally takes six years (five for graduate entrants). Mature students who hold a recent first degree in a relevant discipline, or otherwise satisfy the University's general entrance requirements, are eligible to apply. Find out more about our LLB (part-time).
Accreditation
Recognised by the Law Society of Scotland as a Foundation programme, being one part of the route to qualification as a solicitor in Scotland.
How to become a lawyer
There are different routes to a career in law. The choices you make now can affect the steps you would need to take to achieve your desired career in law. Here we explore the process of becoming a lawyer in Scotland and look at the different roles available within the law profession.
How to become a lawyer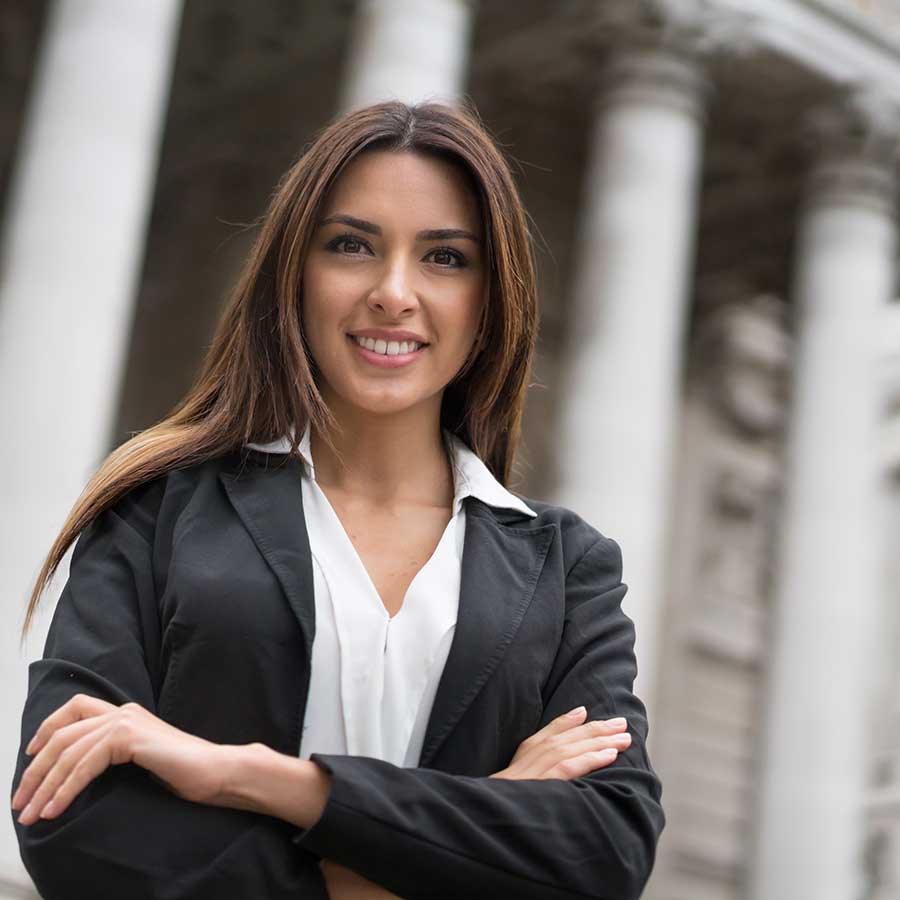 Semester 1
Criminal Law
This course considers everything from the theory of why and how someone is held responsible for criminal actions, to many specific crimes, including murder, the less serious crimes of personal violence, crimes of dishonesty, breach of the peace and attempting to pervert the course of justice.
Law & Society
This class engages with some challenging problems faced by law within contemporary society. It introduces students to some aspects of the social, political, and ethical conditions in which law operates. It deals with the interaction of law with justice, politics, morals and equality. The course will examine the role and challenges of law in times of social change. The course is structured around three key themes:
legal reasoning
law & politics
law & social change
Legal Methods
The aims of this class are to:
provide students with a basic knowledge of the history, structure and institutions of the Scottish legal system
provide students with the skills required to find, interpret and analyse the law applicable in Scotland, from all their various sources
introduce students to competing conceptions of law
introduce students to legal reasoning
Semester 2
Legal Process
The aims of this class are to:
enable students to comprehend the structure, function, operation and proposals for reform of the courts and tribunals in Scotland
introduce students to the institutions and people involved in legal processes in Scotland
expose students to an established body of socio-legal scholarship on legal process and to encourage students to use this knowledge to critically assess liberal rule of law ideology
consider the professional personnel who inhabit the legal world and to examine within broader social and comparative context their respective roles and functions, their recruitment, training, complaints procedures and disciplinary sanctions
explore on a comparative basis social, political and economic issues in relation to the provision of legal services in Scotland
Voluntary Obligations: Contract & Promises
While the most obvious aim of this course is to familiarise students with Scottish contract law and voluntary obligations, this aim may be divided into a number of sub-aims. They are as follows:
to place voluntary obligations within the general framework of Scots Law
to place the Scots law of voluntary obligations within its European context
to analyse and explain how contracts and promises are formed
to analyse and explain how voluntary obligations may be vitiated and on what grounds their validity may be challenged
to analyse and explain the substance of contracts and how the inclusion and exclusion of rights and liabilities is circumscribed by law
to analyse and explain how contracts break down or otherwise come to an end and the remedies available when they do
Public Law 1
The aims of this class are to develop knowledge and critical analysis of:
the nature of the United Kingdom constitution, including the ways in which the constitution has changed in recent decades, and key proposals for further reform
the sources of constitutional rules, both legal and non-legal
the central principles of the constitution, including democracy, the rule of law, the separation of powers, the sovereignty of Parliament, responsible government, and fundamental human rights
the structure, composition, functions and powers of legislative, executive and judicial institutions in Scotland and the United Kingdom
the impact of European Union membership on the location of power within the United Kingdom constitution, and of the relevance of European human rights law
Semester 1
Public Law 2
Following on from Public Law 1, Public Law 2 aims to consolidate knowledge and understanding of constitutional and administrative law. Students taking this class will require to have taken Public Law 1 in the first year. It'll build upon knowledge of the key concepts and institutions of the UK constitution. As a second year class, its rationale is to give students the opportunity to progress from an understanding of the constitution to an understanding of the role of the law in the constitutional control of public power. This course encourages students to adopt an evaluative and critical stance towards ongoing constitutional developments. The course will focus on control of administrative action, both by the judiciary and by ombudsmen. The protection of individual rights will be a key feature, focusing on judicial protection but also encompassing the role of human rights institutions in the UK and Scotland. The future control of public power will be discussed, including topical debates concerning constitutional reform in this area.
Domestic Relations
Family law concerns the control which the law exerts over domestic relationships and families; it affects everyone to a greater or lesser degree.
Topics include:
the legal status of children, parental responsibilities and rights and the upbringing of children - including issues in adoption and fostering, local authority care and the Children's Hearing system
legal consequences of marriage/civil partnership
divorce - including what happens to the family and its financial consequences
unmarried domestic relations, opposite-sex and same-sex
Commercial Law
Commercial law is a second year compulsory subject on the LLB (and LML) degree. The class provides students with an understanding of commercial law in a Scottish context. It partially meets the commercial law subject requirements and related skills outcomes of the Law Society of Scotland and the Faculty of Advocates (albeit that some of the commercial professional topics, eg sale of goods and insurance law, are dealt with by other courses).
Building on the knowledge acquired by students in first year, the general academic objective of the course is to examine the basic principles and rules concerning core aspects of commercial law, including the main principles of agency, partnership and company law, the law relating to various methods of payment (including consumer credit and bills of exchange) the rules governing the ways in which creditors can 'secure' repayment of a debt (eg through taking personal guarantees from third parties for repayment of the debt, or by establishing rights in security over debtor property); the basic principles of diligence; the consequences of both corporate and individual debtor inability to repay debts (corporate insolvency and personal bankruptcy respectively).
While the focus of the class is on 'a black letter' analysis of relevant statutory and common law in the broad commercial area, in order to aid understanding of relevant principles, the class also examines the policy rationales underlying the current law and recent and projected reforms in this area.
Semester 2
Involuntary Obligations: Delict & Unjustified Enrichment
The design of this class is primarily aimed at enhancing students' ability to read cases, deal with case law and apply the techniques of case-analysis and common law development.
The student will acquire an in-depth and up to date knowledge and understanding, from both a legal and a social perspective, of the rules of law governing involuntary obligations, that is to say the law of delict and the law of unjustified enrichment.
Students will acquire the ability to apply the rules of law to particular fact situations in order to provide definitive answers to the problems exposed in these situations.
Students will develop critical and reasoning skills, giving them the ability to make and present personal and informed judgments on the rules of law and their application within the domestic legal system.
Property Trusts & Succession
The general rationale of this class is to provide students with a contemporary understanding of the law of property, trusts and succession in Scotland, and to meet Law Society of Scotland requirements in this subject-area.
EU Law
The EU law class focuses on the constitutional and institutional order of the EU as well as on the internal market. To this end, the class looks at the European integration process, the EU institutions, EU competences, the decision-making process within the EU, the principles underpinning the EU legal order and the principles governing the internal market.
Semester 1
Compulsory classes
Evidence
The main focus of the course is on providing an overview of how the handling and proving of facts works in law and how this interacts with the law of evidence. The emphasis is on understanding and application, rather than the learning of the specific details of legal rules.
The course has three general academic aims:
to introduce students to theoretical and practical issues relating to the use and proof of facts in the Scottish legal system
introduce students to the central concepts, rules and principles of the Scots law of Evidence
give students an understanding of the interrelationship between the theory, practice and law relating to the use and proof of facts in the Scottish legal system
Elective classes
Please note that options are not guaranteed to run in any academic year.
Law, Film & Popular Culture
This class develops general concerns with the nature and function of law which are key elements in the wide-ranging theoretical, non-subject specific (or meta-law) classes taught within the Law School – Law and Society, Sociology of Law, Legal Theory and Criminology.
Legal Theory
The main aim of this class is to introduce students to the major theoretical ideas and values of law, and to debates about those ideas and values, thereby enhancing their understanding of law in general.
The class explores relationships between law and morality, law and society and between law and power. In doing so, the course also explores what we mean by law, morality and power. The course requires students to work on their own and make an oral presentation and trains then in concise thinking.
Housing Law
The aim of the class is to introduce the student to the law of landlord and tenant, and to concepts of housing need and market allocation of housing resources and the different ways in which such concepts are interpreted and operated in modern Britain. The method of teaching and assessing the class is designed to enhance learning, academic and transferable skills.
International Private Law
This class aims to provide students with an understanding of the problems inherent in situations involving a foreign element and the basic concepts and principles of Scots international private law. More particularly, attention will be given to the rules which establish when the Scottish court has jurisdiction in any case involving a foreign element. The class will also determine the applicable law in cases involving international elements heard before a Scottish court and the rules on recognition and enforcement of judgments in certain contexts.
The International private law rules in relation to:
contract
delict
marriage
divorce & nullity
parent & child
property
insolvency & succession
Tutorials for this class take place on Saturday mornings.
This class is not recommended for Erasmus exchange students.
Competition Law
Most industrialised countries, and the European Union now have elaborate laws, rules and procedures for ensuring the maintenance of a competitive economy. This course looks at how the competition laws of the United Kingdom and the European Union affect how business operates in Britain.
If you're contemplating a career in business, or are simply a consumer, some knowledge of competition is useful. If you're a student of industrial economics, or of marketing, some knowledge of competition law is a wise precaution. Moreover there are considerably more job opportunities in this area, whether as an economic adviser, legal practitioner or in-house lawyer advising on effective compliance.
Semester 2
Crime & Punishment
This class encourages students to think constructively and critically about contemporary issues in the field of criminology. It also focuses on contemporary responses to crime in the fields of punishment, imprisonment and penal policy, with reference to developments in Scotland and beyond.
Human Rights Law
This class deals with the questions, what are those 'basic' or 'fundamental' rights and freedoms to which every individual is entitled in a democratic society, and how to protect them against possible violations.
The class focuses on a selection of the most prominent human rights which have resulted in considerable amounts of litigation. You'll consider the right to life, right not to be tortured, freedom of expression, children's rights and issues regarding terrorism.
Employment Law
This class aims to provide students with an understanding of employment law in a UK and EU-wide context and to introduce students to the sources, principles and main features of employment law.
You'll learn about key employment protection provisions and the major collective provisions of employment law in the UK, including the legal position of the contract of employment, the status of employee, the law and practice of unfair dismissal, discrimination law and working time regulations.
The class will focus on practical employment law involving practitioners, an Employment Judge and an Employment Tribunal visit.
Public International Law
Interested in what is going on in Syria? Concerned about what may or may not be going on in North Korea? Pondering why troops are still in Afghanistan? Then public international law might be the class for you.
The class explores the relationships between states as among themselves and with international institutions. As well as giving an overall view of the area, we'll also look at specific incidents which have arisen and which have been dominated by international law, and which in turn have made huge contributions to the area.
The syllabus looks at sources including treaties and customary law, statehood, the collective use of force, state responsibility and terrorism, the International Criminal Court and the International Court of Justice.
Assessment
We use many different methods of assessment, in addition to exams and course work. For example, Social Security Law is assessed by students presenting a case. Students from all years can participate in various mooting competitions and Strathclyde has impressive success rates in these. Many students have also competed successfully in national and international mediation competitions.
Learning & teaching
As well as lectures, tutorials and seminars, our teaching methods include experiences such as the Law Clinic and legal practice. In Domestic Relations & Evidence, lectures are delivered by webcasts.
Back to course
Fees & funding
All fees quoted are for full-time courses and per academic year unless stated otherwise.
Go back
Scotland

2022/23: TBC
2021/22: £1,820

Fees for students who meet the relevant residence requirements in Scotland are subject to confirmation by the Scottish Funding Council. Scottish undergraduate students undertaking an exchange for a semester/year will continue to pay their normal tuition fees at Strathclyde and will not be charged fees by the overseas institution.

England, Wales & Northern Ireland

£9,250

Assuming no change in RUK fees policy over the period, the total amount payable by undergraduate students will be capped. For students commencing study in 2022-23, this is capped at £27,750 (with the exception of the MPharm and integrated Masters programmes). MPharm students pay £9,250 for each of the four years. Students studying on integrated Masters degree programmes pay an additional £9,250 for the Masters year with the exception of those undertaking a full-year industrial placement where a separate placement fee will apply.

International

£17,600

University preparation programme fees

International students can find out more about the costs and payments of studying a university preparation programme at the University of Strathclyde International Study Centre.

Additional costs

Course materials

No additional costs for law modules and all compulsory material is in the library.

Study abroad

If a student is studying abroad, they are responsible for all costs.

Available scholarships

Take a look at our scholarships search for funding opportunities.
How can I fund my studies?
Go back
International Students
We have a number of scholarships available to international students. Take a look at our scholarship search to find out more.
Chat to a student ambassador
If you want to know more about what it's like to be a Humanities & Social Sciences student at the University of Strathclyde, a selection of our current students are here to help!
Our Unibuddy ambassadors can answer all the questions you might have about courses and studying at Strathclyde, along with offering insight into their experiences of life in Glasgow and Scotland.
Chat to a student ambassador
Back to course
Careers
Most Strathclyde LLB graduates enter the legal profession after completing the Diploma in Professional Legal Practice and a two-year traineeship in a law firm.
Trained Scottish lawyers are increasingly in demand in England and abroad.
Jobs related to your degree
Law graduates with the Diploma in Professional Legal Practice can work as solicitors in a variety of legal practices, from multinational law firms to local high street firms. They can deal with a range of subjects including company business and finance, house purchase and sales, winding up of estates, civil disputes, criminal law, family and personal matters.
Opportunities are available in law firms, legal departments of local and national government, and numerous large organisations which often have in-house legal teams.
Jobs directly related to a law degree include:
solicitor (Scotland) - this can be in a private practice, local or national government or in-house
advocate (Scotland)
company secretary
Work experience is key
Employers greatly value work experience as it shows you have the skills they're looking for.
Take the opportunity to join the Strathclyde Law Society or the many other law societies we offer, which provide fantastic experience, hints and advice to help you take your first steps to a career in the legal world.
What other areas can I work in?
Studying law doesn't mean you can only work as a solicitor; many options beyond the legal profession will be open to you. The understanding of legal implications and obligations, combined with the ability to apply this knowledge in practice, is valuable in many parts of the public, private and voluntary sectors.
Jobs where your degree could be useful include:
consultant in a professional services firm
patent attorney
trading standards officer
civil service positions
human resources officer
chartered accountant
banking & finance positions
company secretary
Trainee salary
As a trainee, you can expect to be paid £17,034 in your first year and £20,400 in your second year.
Skills for your CV
The range of skills that a law degree provides include:
research skills using a range of sources, including verbal questioning
evaluation skills and the ability to interpret and explain complex information clearly
analytical skills
reasoning and critical judgement skills
the ability to formulate sound arguments
lateral thinking and problem-solving skills
the ability to write concisely
confident and persuasive oral communication skills
attention to detail and the ability to draft formal documents with precision
Glasgow is Scotland's biggest & most cosmopolitan city
Our campus is based right in the very heart of Glasgow. National Geographic named Glasgow as one of its 'Best of the World' destinations, while Rough Guide readers have voted Glasgow the world's friendliest city! And Time Out named Glasgow in the top ten best cities in the world - we couldn't agree more!
We're in the city centre, next to the Merchant City, both of which are great locations for sightseeing, shopping and socialising alongside your studies.
Find out what some of our students think about studying in Glasgow!
Find out all about life in Glasgow
Back to course
Contact us
Find out more about the programme
Due to the COVID-19 outbreak our team are working from home and can be contacted via our online enquiry form.
Have you considered?
We've a range of courses similar to this one which may also be of interest.